Catholic Social Teaching PGCert
Postgraduate, Postgraduate Certificate, September 2021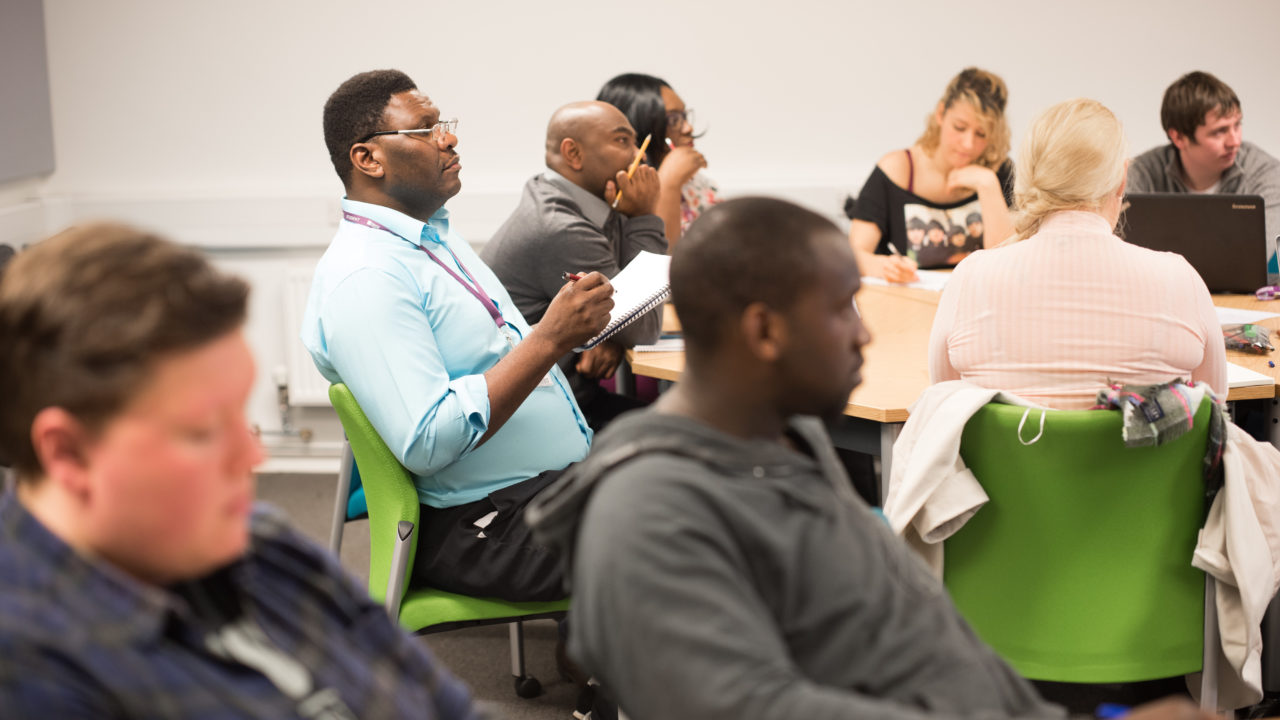 Overview
Aimed primarily at those who are actively engaged in promoting social justice and the common good, this programme supports reflective study of the theology of Catholic Social Teaching. You will study the principles of Catholic Social Teaching in their historical, political and ethical contexts, explore the theologies of God, human personhood and the wider cosmos that underpin this teaching, while reflecting on how these can continue to be developed through consideration of your own professional experience. The programme will therefore help to support your own work in Catholic Social Teaching as well as giving you a formal academic qualification.
Part-time only
2 modules (30 credits each)
Can be taken as Professional Graduate (level 6) or Postgraduate Certificate (level 7)
Modules taken each year depend on year of entry
In one module (either Ethics or Constructing Theologies, depending on the year of entry) students have face-to-face sessions with students on the MA in Theology. They will have separate online interaction focused on Catholic Social Teaching.
The Catholic Social Teaching PG-Cert is a stand-alone award. Students cannot use credits from the CST Certificate towards an MA award.
A successful Catholic Social Teaching Certificate could, however, strengthen an application for an MA degree, especially if an applicant doesn't have a first degree in theology or a related subject.
When are the teaching sessions?
The programme is delivered through blended learning, which is essentially a mixture of online and face-to-face provision.
There are two weekend face-to-face teaching blocks for the semester 1 module (either Catholic Social Teaching in the Context of Contemporary Ethics or Catholic Social Teaching within the Construction of Theology), one block usually in October and one usually in December. In between these weekends the module makes use of online learning with reading provided on the University's Virtual Learning Environment and regular online seminars.
The second module (Catholic Social Teaching in Practice Communicating Research) is delivered through blended learning, with a number of face-to-face sessions during the semester supplemented by online learning. Students will present their thoughts on their own application of Catholic Social Teaching to a group of peers at the end of the programme as part of the final assessment.
Attendance
The Certificates are delivered through blended learning, involving a small number of intensive teaching blocks, supplemented by online interaction.
Ask Us a Question
Clearing 2021
Are you looking to join us here at Newman University this September? We are welcoming applications throughout the Summer.
Our friendly and supportive admissions team are here to help you secure your place at University.
Apply Now
Entry Requirements
Normally a good first degree (2.1) in theology or a theology-related subject, or equivalent professional experience. Professional experience and/or aptitude for the programme may be assessed through the submission of written work if the first degree is not theology. Applicants with a good 2.2 degree who are able to demonstrate further relevant study skills/research experience may also be considered.
International Students
Newman University is not licenced by the UK Government to sponsor migrant students under the Student route and is therefore unable to accept applications from international students at present.
If you have any questions regarding entry onto this course please contact our friendly and helpful admissions team via our Admissions Enquiry Form
Course Fees
UK Students – £2,000 *
* Fees shown are for 2021/22 academic year. The University will review tuition fees and increase fees in line with any inflationary uplift as determined by the UK Government, if permitted by law or government policy, on enrolment and in subsequent years of your course. It is anticipated that such increases would be linked to RPI (the Retail Price Index excluding mortgage interest payments).