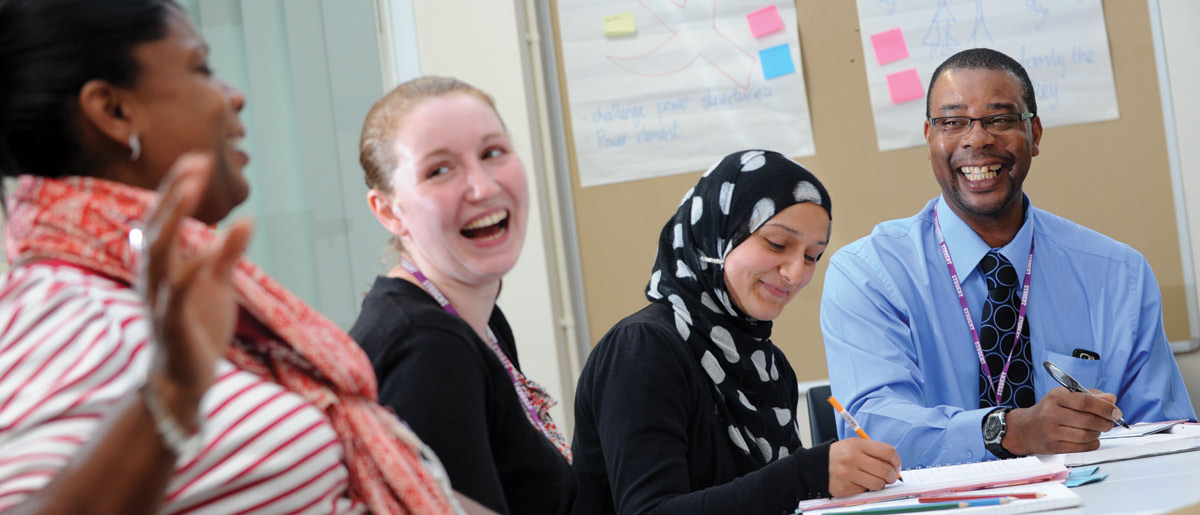 Overview
Course content
Newman offers you the opportunity to enhance your professional knowledge, understanding and skills by developing and implementing systematic professional enquiry and research.
You can also expect to further develop your knowledge, understanding, and skills in curriculum development. The course promotes critical engagement in a range of contemporary issues pertinent to specific interests and needs and you are encouraged to explore your own personal and professional interests and expertise. If you wish to progress your studies even further then the course provides an appropriate academic platform for progression to PhD/EdD study.
Attendance
Modules are based at Newman, usually delivered one evening per week. However, if there are significant numbers of staff in one institution wishing to undertake the programme we can deliver the programme on your site at times convenient to you.
Part-time students have a maximum period of study of 5 years to complete an MA. However, an MA is typically completed over 2-3 years and we recommend that part-time students take 60 credits per year (i.e. 2×30 credit modules across the year). Full-time students have a maximum period of study of 3 years to complete an MA, but typically complete an MA in 18 months.
Assessment
You will experience a range of work-based assessment formats including portfolios, presentations, written reports and essays, work-based studies and practical tasks. The course will recognise your needs as a learner and develop independent study skills that are transferable to a range of learning situations and assessment tasks.
Special features
You will have access to all facilities at Newman including the library, which stocks a wide range of books, journals and e-books. Previous level 7 masters credits may be transferred (free-of-charge) through the accreditation of prior certificated learning (APCL). Also, you can gain credits for other sustained CPD programmes you have undertaken, such as National College Programmes, by writing up your reflections against the assessment criteria for a comparable module via the accreditation of prior experiential learning (APEL). You may also gain national professional recognition through the Teaching and Learning Academy for your masters level work.
Postgraduate Loans
For further information regarding a Postgraduate Loan (PGL) for Master's study click here
Autumn Open Days
Start your Newman journey at one of our upcoming Open Days:
Saturday 12th October 2019, 10am-3pm
Friday 8th November 2019, 4pm-8pm
Book Your Place
Contact Details
For Admissions Enquiries
For Course Specific Enquiries
Dawn Picken (Faculty of Education Administrator)
Entry Requirements
An Honours degree in a relevant subject area from a UK university or an overseas university agreed by NARIC as equivalent and subject to ILET and EU requirements. Consideration will be given to students with lower level qualifications who have a relevant range of professional experience. Professional experience that equates to degree level will be considered by the Course Co-ordinator. If some non-graduates are to be considered pre entry tasks will be considered and used at the co-ordinator's discretion.
Students may also enter with up to 90 level 7 credits via the Recognition of Prior Learning (RPL). The MA Education is open to graduates who are professionally engaged in an educational setting and/or graduates who have an interest in educational issues.
Course Fees
2019/20*
Home/EU students: Part time; modules payable in multiples of £850.00 (when completing a full 180 credits students are invoiced two modules per year)
£850.00 x 6 = a total of £5,100
N.B. A minimum of 180 credits are required to complete the MA Education.
*Fees shown are for 2019/20 academic years. The University will review tuition fees and increase fees in line with any inflationary uplift as determined by the UK Government, if permitted by law or government policy, in subsequent years of your course. It is anticipated that such increases would be linked to RPI (the Retail Price Index excluding mortgage interest payments).
Newman alumni are eligible for a 10% discount when enrolling onto a full Masters degree programme if they have completed a full honours degree, full PGCE or full Masters programme at Newman. Staff employed in partner schools and colleges (which take our trainees on placement) are also eligible for a 10% discount on the MA Education programme. The 10% discount cannot be used in conjunction with each other.
Additional Information
General Academic Regulations: Terms and Conditions for students attending our courses
Timetables: find out when information is available to students
Course Modules
Please refer to the full-time route page for full module details.
Optional Modules: find out how the University deals with changes that may occur in some eventualities
Module Titles and Named Required Modules to Obtain Named Routes
Many modules will continue to be rooted in enhancing professional practice within work-based learning. All assessment will be carried out through the medium of English and there will be no exceptions. However, students will also be able to undertake non-empirical research – see * in the PDF table above for modules which will facilitate non-empirical research.