New course launching September 2022, applications open this September. 
Social Work BA (Hons)
Honours Degree, Undergraduate, September 2022
Key Details
L520 Course Code
3 Years
104 Typical UCAS Tariff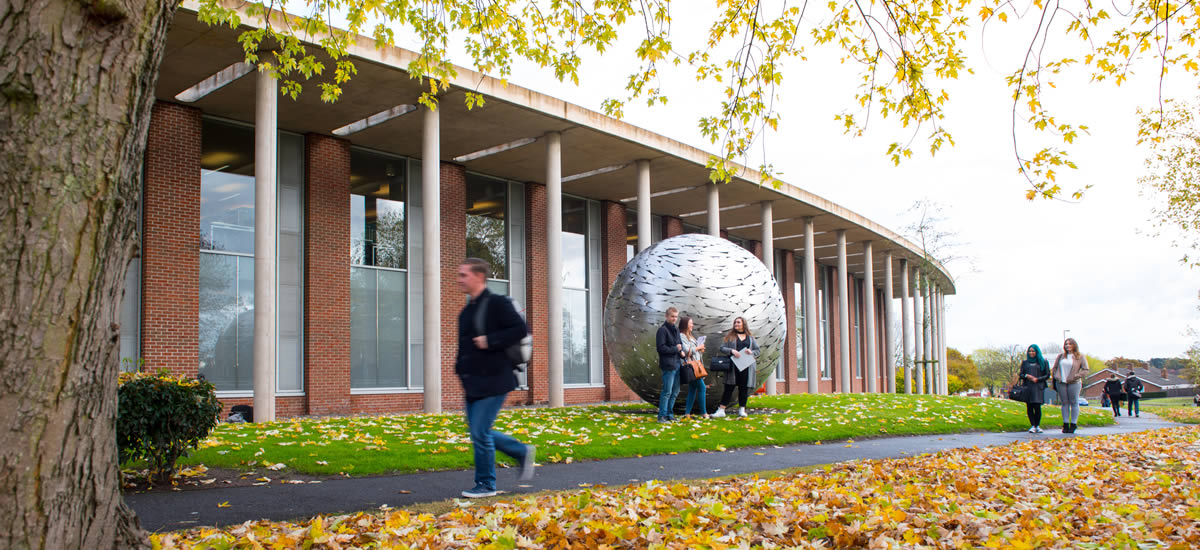 Overview
This course will run from September 2022 subject to a successful validation.  As part of the validation process we are seeking approval from Social Work England, the regulator for social workers in England.  On completion of this programme of study graduates will be eligible to apply for registration with Social Work England as a Social Worker.
Social work is a complex and rewarding career, working with the most vulnerable members of society seeking to improve lives and protect from harm. You will learn from 'experts through experience', academics from multi-disciplinary backgrounds and social work practitioners. This programme will equip you with core skills required to confidently embark on your career as a social worker working with children, families and adults.
Why study this course?
This programme will help you understand the causes of vulnerability and need, and develop your skills in working with people throughout their life course. The programme is being developed in partnership with 'experts through experience' who will ensure that the service user and carer voice is central to your learning.
As critical thinkers you will be encouraged and supported to explore and understand key issues impacting on rights, needs and independence.  Your practice placements will provide opportunities to test out your knowledge and skills and develop new skills working directly with service users, carers and social care organisations.
You will be encouraged to seek opportunities to promote social change and to address discrimination and oppression in all its forms.
You will undertake 200 days of practice placement and skills development in a range of statutory and voluntary, independent and private social care settings.
What does the course cover?
This programme is designed to meet the professional standards for social work education as set by Social Work England and is mapped against the Social Work Professional Capabilities Framework. You will learn about the following themes:
Rights, responsibilities and independence.
Risks, safeguarding and decision making.
Human growth and development and psychosocial approaches to the life course.
Professional development including ethics, values and the social work role.
Legal and policy frameworks.
Communication and relationship based practice.
Service user and carer perspectives.
Working in organisations and with other professionals.
How will I be assessed?
The programme will offer a range of different assessments to support all students to provide examples of their best work.  Assessments will be linked to real world practice and provide opportunities for academic and skills growth and development throughout your studies. Examples of assessments include:
Assignments
Presentations
Simulation activities
Portfolios
Exams
Reflective accounts.
What careers can I consider?
Most graduates from social work programmes go on to register as social workers and work within the statutory, voluntary, independent and charitable social care setting.
You can also go on to further study options including a range of master and doctoral level programmes.
Studying and Living in Birmingham
Newman University is located in Britain's second city – Birmingham. With one of the youngest city populations in Europe, it is a vibrant and dynamic place to study.
Studying at Newman University, you have the advantage of being near to the city, but living in, or commuting to peaceful and comfortable surroundings on campus.
Dining out
Birmingham has lots of wonderful places to dine out with a range of different cuisines. Places where you can dine out include; Brindley Place, Mailbox and Hagley Road (just 10 minutes' from Newman).
Entertainment
Whether you like to go to; the theatre, gigs or clubs, or enjoy: sports, shopping visiting art galleries or exhibitions – Birmingham will not disappoint and you will be spoilt for choice!
Location
Getting around Birmingham is easy via train, bus or by car. Birmingham has excellent transport links to the rest of Britain, making it easy for those weekend getaways!
Why not explore the city for yourself by visiting one of our Open Days?
Want to find out more about Birmingham? Then take a look at some Birmingham City Secrets.
Autumn Open Days
Join us at one of our upcoming Open Day on Saturday 9th October or Saturday 6th November (10am-4pm) where you can meet our staff and students, and tour the Newman University campus.
Book Now
Entry Requirements
You must achieve at least 104 UCAS points including a minimum of CC at A level or equivalent (e.g.MM at BTEC Diploma; MPP at BTEC Extended Diploma) towards the total tariff.
As it is not possible to achieve 104 UCAS points through an Access course, Access Students will need 106 UCAS points. You can reach this with the following combination of Distinction, Merit and/ or Pass grades at level 3 achieved from a completed Access course. 106 UCAS Points: D27-M0-P18; D124-M6-P15; D21-M12-P12; D18-M18-P9; D15-M24-P6; D12-M24-P3; D9-M36-P0.
Five GCSEs at grade 4 (or C) or above (or recognised equivalents), including English Language, are also required.
Applications will be invited for interview for this course, more information about the interview process will be published when available.
You will need to obtain an Enhanced Disclosure and Barring Service (DBS) clearance and undertake an Occupational Health Screening prior to starting the course. For more information on your DBS application please visit the How do I complete my DBS form advice page.
Social Work students are also required to undertake a programme of immunisations as required by the Department of Health and meet the immunisation and immunity requirements of placement providers. More information can be found online.
International Students
The University is not licenced by the UK Government to sponsor migrant students under the Student route and is therefore unable to accept applications from international students at present.
Applying Direct Option
You can apply direct to Newman University for this course if you have not previously applied to Newman University through UCAS and you are not applying to any other universities.
The Direct Application Link for September 2022 will be added soon.
If you have any questions regarding entry onto this course please contact our friendly and helpful admissions team via our Admissions Enquiry Form
Course Fees
Please note that the course fee for September 2022 will be confirmed later this year, and will be updated on the course page in due course. The University will review tuition fees and increase fees in line with any inflationary uplift as determined by the UK Government, if permitted by law or government policy, on enrolment and in subsequent years of your course. It is anticipated that such increases would be linked to RPI (the Retail Price Index excluding mortgage interest payments).
Additional Costs
Newman offers a well-stocked library including access to an extensive range of acidic journals and other materials.  Students may wish to purchase some additional books for their own ongoing use and may wish to allocate around £100 per year for this.
Find out more about the other additional costs associated with our undergraduate degrees. 
You may also be eligible for a NHS Social Work Bursary in your 2nd and 3rd year of study including a component that covers your travel costs for placement.