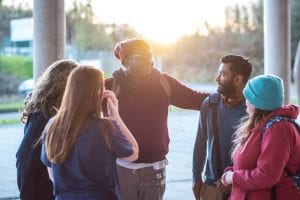 Keep informed
There are always things happening at Newman University; we are a University that is constantly evolving and we want to keep you updated with our latest developments. Members of our alumni association will receive a monthly email newsletter and a bi-annual Engage magazine. We want you to be the first to know about our exciting news.
Further study & CPD
Your learning journey doesn't end when you graduate, Newman is able to support you with further study, we offer a wide range of postgraduate and research degrees to further advance your skillset. If further study isn't for you, we also offer various continued professional development (CPD) training courses that will help support you within your chosen profession. By keeping in contact, we will let you know of any opportunities we think you will be interested in.
Event invitations
If you keep in contact with us we can invite you to exciting events such as our upcoming Big Alumni Reunion to celebrate our 50th anniversary. We are keen to build a programme of events for our alumni community that meet your needs, and allow you an opportunity to catch up with friends on campus.
Re-connect with old friends
The alumni association have a database that holds contact details for thousands of our graduates. If you have lost touch with old classmates and want to re-connect with them we can help facilitate this. We can also help you arrange campus reunions for your circle of Newman friends.
Get involved
We hope that thousands more students will have the opportunity to study here at Newman University, just as you did. With your help we can ensure that they can achieve their full potential. The alumni association provides you with the opportunity to give back to Newman by volunteering your time, knowledge or services.
For more information about Newman University Alumni Association click here.
To update your details, click here.