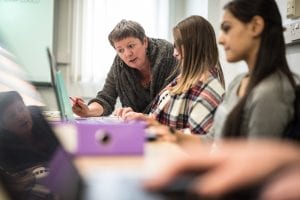 Student support at Newman is designed to enable all students reach their potential – their help can make the difference between gaining a first class degree or a 2.1.  Student support provide advice and guidance on improving study skills, careers guidance and support for students with disabilities.
The student support area at Newman has been nominated for the last two years in the Outstanding Student Support category at the Times Higher Education Leadership and Management Awards.
Students following Combined Honours, Single Honours or Foundation degree programmes have access to Academic Support Advisors on a daily basis. As part of our commitment to student support, a member of the academic staff is on duty every day to help students with their personal development planning, to advise on academic progress or discuss any other concerns.
Academic Support Advisors are not trained counsellors, but they do have access to information and services that may be able to help and, in the event of difficulties, can give advice on solutions.
Students following Initial Teacher Education courses are assigned to an Academic Professional Tutor Group.
For further information email: asa@newman.ac.uk
Study Advice
In addition to the above, the Learning Support Tutor offers regular workshops throughout the semester in areas of communication and key skills and these are open to all students across the University.
For more information, see the Study Advice page.