Active Learning Time in Physical Education: The SHARP Principles – Teaching Resources
Last Updated: September 18th 2023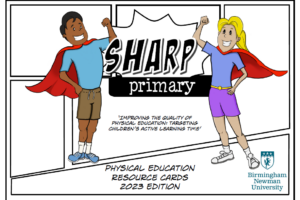 Dr Emma Powell and Dr Lorayne Woodfield are the creators of the SHARP Principles (Powell, Woodfield and Nevill, 2016), which have been designed to enhance the quality of physical education and are research-informed. The SHARP Principles place a focus on active learning time in lessons which provides the children with opportunities to practice and apply their movement skills. Practitioners can apply the SHARP Principles to their existing planning.
The SHARP Principles have increased moderate to vigorous physical activity in PE lessons to 75% (average) of lesson time and are the most effective in comparison with similar strategies.
Our SHARP Principles have been shared internationally with practitioners in Luxembourg, Australia, New Zealand, Singapore and countries in the Americas, and also with some national sport organisations and community sporting foundations in the UK.
Selected SHARP resources are available free of charge to support practitioners with the planning and delivery of active physical education lessons. Practitioners can view the YouTube video here and request the resource cards from our online store. Contact Dr Emma Powell or Dr Lorayne Woodfield for more details
Related publications:
Powell, E., Woodfield, L.A. and Nevill, A.M. (2016) Increasing children's physical activity levels in primary school physical education: the SHARP Principles Model. Preventive Medicine Reports. http://www.sciencedirect.com/science/article/pii/S2211335515001643
Powell, E., Woodfield, L., Powell, A., Nevill, A. (2020) Assessing the wider implementation of the SHARP Principles: Increasing physical activity in primary physical education. Sports, 8(6)  https://www.mdpi.com/2075-4663/8/1/6