Active Learning Time in Physical Education: The SHARP Principles – Teaching Resources
Last Updated: September 6th 2021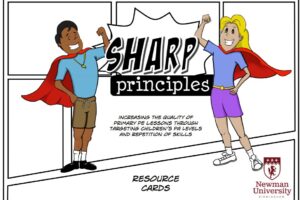 The SHARP Principles (Powell, Woodfield and Nevill, 2016) have been designed to help teachers and coaches to increase the amount of time children engage in physical activity during primary physical education lessons.  The SHARP Principles place a focus on active learning time in lessons which provides the children with opportunities to practice their movement skills.  Practitioners can apply the SHARP Principles to their existing planning.
The SHARP Principles have increased moderate to vigorous physical activity in PE lessons to 75% (average) of lesson time and are the most effective in comparison with similar strategies.
We have developed resources which are available free of charge to support practitioners with the planning and delivery of active physical education lessons.  Practitioners can view the YouTube video here and request the resource cards from our online store.
Following the success of previous workshops, we hope to be able to offer another free teacher workshop soon.  Please keep checking this webpage and social media for news.
READ ADDITIONAL GUIDANCE ON APPLYING THE SHARP PRINCIPLES DURING COVID-19 PANDEMIC
Related publications:
Powell, E., Woodfield, L.A. and Nevill, A.M. (2016) Increasing children's physical activity levels in primary school physical education: the SHARP Principles Model. Preventive Medicine Reports. http://www.sciencedirect.com/science/article/pii/S2211335515001643
Powell, E., Woodfield, L., Powell, A., Nevill, A. (2020) Assessing the wider implementation of the SHARP Principles: Increasing physical activity in primary physical education. Sports, 8(6)  https://www.mdpi.com/2075-4663/8/1/6