Senses Bar is usually the centre of Newman Student Union social events. From live band nights to talent shows, comedy clubs to theme nights, there's enough variety to suit every taste. Friday nights are particularly lively, with live acts and a late bar.
If you just want to meet and chat with friends on the comfy sofas, watch the TV, have a game of pool or chill out in the Martineau Quad then this is the place to go. It is open as a social space even when the bar is closed.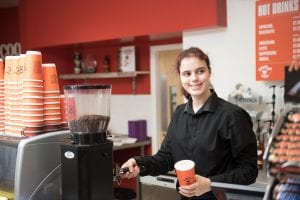 Sanctuary Cafe
Sanctuary Café offers a range of meals freshly cooked to order, with speciality cuisine including noodles, baguettes and international dishes sitting alongside British favourites. A selection of drinks, snacks and home-made cakes are available throughout the day. You can also buy essentials such as batteries, chocolate and greeting cards as well as a wide selection of Fairtrade products.
Opening Hours: Monday to Friday – 8am until 5pm
Atrium Cafe
The Atrium Café provides an environment that is comfortable and pleasant with excellent friendly service and delicious fresh specialist coffee from Starbucks and food. Open from the start of the day until mid-evening, the café offers the full range of hot beverages and blended cold drinks, together with a range of non-coffee beverages and a fantastic line-up of delicious and enticing foods from freshly baked pastries to premium filled rolls & sandwiches, paninis, a distinct range of high street style cakes and cookies.
You'll be able to enjoy the luxurious sofas and free Wifi; and the cafe will be the place to go for a chat with friends.