CADLab in response to COVID-19
Dear CADLab friends,
Following news developments relating to COVID-19 and having closely followed advice and guidance from the government, the World Health Organisation and Public Health England and NHS, CADlab continues to offering long-term support of those children at Birmingham Children's Hospital through the Rocket-Arts project. We have produced electronic child-friendly online resources such as animated cartoon films, interactive stories and worksheet literacy activities. CADLab is proudly funded by BBC Children in Need and The Lottery Community Fund 'Awards for All'.
Our Rocket-Arts stories can be viewed below: 
'Simba and the Space Cave' Animated Cartoon Film
'Simba's Dream' for younger children (2-5 years old)
'Welcome to Rocket-Arts online!' for the elder children (5-8 years old)
Rocket-Arts E-resources play through the J.B. Academy's website for the children in-patients at BCH and pupils who experience isolation at home. They are also accessible via CADLab pages for the wider public.
Regards,
Professor Persephone Sextou in Applied Theatre for Health and Wellbeing
Reader in Applied Theatre, Director of CADLab at Newman University Birmingham.
CADLAb is an ARTS-based  Research Hub that investigates Applied Theatre and Wellbeing in paediatrics. It brings professional applied theatre facilitators, puppeteers,  hospital teachers, psychologists, psychiatrists, nurses, digital learning developers, play specialists and drama students together in inter-disciplinary research. In CADLab, research is a symbiotic experience that has mutual benefits for both children as audiences-research participants and the researchers. We use a range of mixed-methods to  develop a collaborative approach to child wellbeing through the arts with technology aiming to support the communication of research back to the community.
CADLab was founded by Dr Persephone Sextou within Newman's Drama department with an Entrepreneurship Award from HefCE & UnLtd in 2010. CADLab operates in partnership with Birmingham Women's and Children's NHS Foundation Trust, The James Brindley School at BCH, Heart of England NHS Foundation Trust in England and, Queensland Children's Hospital Brisbane Australia. CADlab's projects have now involved over 4000 sick, injured and terminally ill children in performances and, pre- and post-show evaluations at their bedside.
CADLab has generated over 100K over the years with support from BBC Children in Need, The Lottery Community Fund, The Grimmitt Trust, The W.A. Cadbury Trust, Heartlands Arts-NHS Trust and private donations.
For publications visit Professor Persephone Sextou's staff profile.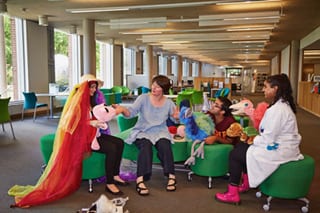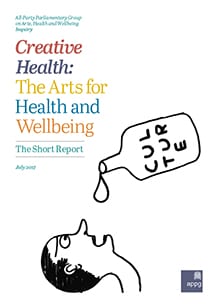 Students with an interest in Applied Theatre and Wellbeing, Puppetry and Storytelling, Theatre and Society, Arts in Health & Wellbeing, Medical Humanities and, in the sister field of Dramatherapy, get the chance to get involved with CADLab as an extra-curricular activity.
'CADLab initiative is an excellent resource for student learning, as is the involvement of professionals from NHS and other contexts'.
External Examiner
'All of the judges were impressed by your work and thought that your project had made a significant impact.'
Director, Creative Health CIC
Benefits of CADLab
The advantages to students of participating in CADLab are that it gives you the opportunity to:
Work with experts in Applied Theatre and wellbeing in healthcare.
Gain a wide range of experiences and skills, including planning, devising, performing, filming and evaluating portable theatre performances.
Learn to produce work for a variety of settings including hospitals, clinics, hospices, care homes, and community venues.
Have their volunteering accredited through the HEAR Newman Volunteering Awards scheme.
Network, and obtain work experience with, companies and organisations which could lead to future employment.
CADLab supporting children in hospital with BBC Children in Need
Current project 2019-2022
'Rocket-Arts' project Rocket-Arts is an innovative interactive longitudinal project that aims to explore the uses mixed arts (bedside drama, participatory storytelling, visual arts) with digital technology in making a difference in children's education when they are in hospital in preparation of going back to school. The project aims to examine how the arts with technology could encourage children to engage with continuous learning (Literacy KS1 and KS2) and improve their emotional and social wellbeing during treatment through playful and stimulating 1:1 story-making, object animating and digital activities. The project will use mixed-methods and multi-level experience and knowledge to encourage communication, creativity, self-confidence, awareness and self-appreciation during times of poor health, lack of normality and privacy, physical pain, and isolation.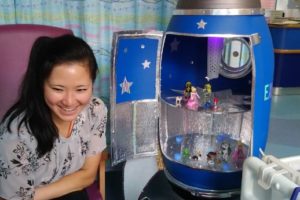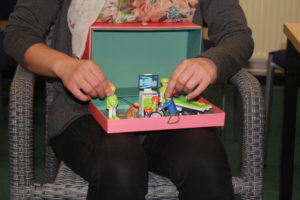 Rocket-Arts works with James Brindley school at Birmingham Children's Hospital, more details can be found on the James Brindley website.
Past projects
'Bird Island' project 2016-2019
'Breathing with Love' 2013-2014
'The Boy and the turtle' 2010-2013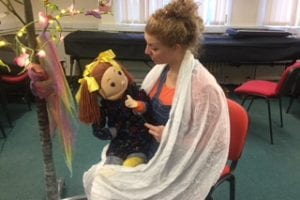 CADlab offers eye-opening and enriching learning experiences which our Drama students remember for years.
CADLab and the Cathedrals Group
With the support of the Cathedrals Group, Newman University hosted a two-day conference in September 2017 on Arts, Health and Wellbeing, which CADLab was a part of. Professor Stephen Clift of Canterbury Christ Church University and Dr Persephone Sextou of Newman University organised a full programme of talks, demonstrations and discussions.
Download the Cathedrals Group Conference Report
Broken Puppet 3 International Symposium on 'Puppetry: Community, Health, Well-being and Disability: Professional Training Opportunities'
Between 17th and 18th April 2019, the Community & Applied Drama Laboratory (CADLab) at Newman University Birmingham in collaboration with the UNIMA Research Commission and the UNIMA Commission for Education, Development and Therapy held a 2-day symposium exploring ways of training professional performers and health practitioners in approaches, techniques and embodied empathic relationships between performers, puppets, healthcare professionals and audiences. Search #BrokenPuppet3 on twitter to see more photos from the day.
Download the Broken Puppet 3 Report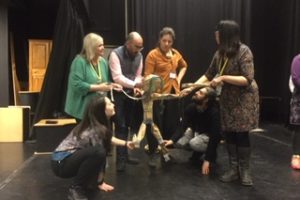 Published in special issues of Applied Theatre Research Journal and the Journal of Applied Arts and Health  
CADLab has seen the research outcomes of the Broken Puppet 3 Symposium organised at Newman in 2019 published in July and August 2020.
The works focus on Applied Theatre, Puppetry and Emotions in Healthcare/cross-disciplinary pedagogical framework sin the special Applied Theatre Research issue and the Editorial of the JAAH double special issue on Applied Puppetry in Health.
Co-authors are Senior Lecturer in Psychology, Anatoli Karypidou; Professor in Applied Theatre for Health & Wellbeing, Dr Persephone Sextou; Newman Drama Graduate, Wesley Rolston; and assistant psychologist for children and young people NHS, Eleni Kourtidou-Sextou.  For details of the publications, you may visit Newman's repository.
For requests of full texts, contact the Director of CADLab, Prof Persephone Sextou at p.sextou@newman.ac.uk
Contact us
If you are a current or prospective student, a colleague, a drama teacher or a community artist and would like to find out more about CADLab, please contact Dr Persephone Sextou: P.Sextou@newman.ac.uk
RELATED DOCUMENTS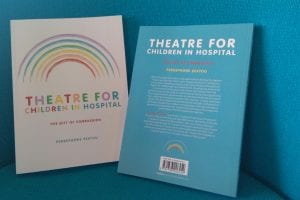 Sextou, P. (2016) Theatre for Children in Hospital. The Gift of Compassion. UK: Intellect.
CADLab in the news