Careers Pathway 3 – Compete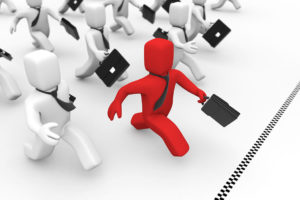 You know what you want to do, you have a plan, the next stage is to compete successfully for a graduate level job or place on a postgraduate course. You need to make yourself stand out from the crowd and promote yourself successfully. If at any point you change your mind you can revisit the Decide and Plan pathways and go through the process again.
Consider completing the gold level of The Award for Careers and Employability (ACE) . The gold level of the ACE, run by Newman University Careers Service, is designed to develop key career management skills in the areas of presenting yourself successfully to employers and course providers and takes you through a series of activities to practice good techniques.
Newman University also uses Shortlistme, our interview simulation platform, where you can practice interviews. The aim is to build confidence in interviews and it is a great way to practice in a safe environment. Students can access Shortlist.me via their My Career account through the resources tab, or they can click through to the Newman University Shortlistme Market Place. After answering each question, individuals will be given the opportunity to self-assess their response using careers and employer insight. They will also be able to utilise this feedback to enhance their interview performance by booking a Careers appointment within My Career.
Applying for and securing a graduate level job
The application process can involve a number of things including submitting an application form with a personal statement, submitting a CV, a telephone or online interview, one-to-one interviews, assessment centres and psychometric testing. Always follow the application instructions and never presume anything. You must always tailor your application, giving lots of evidence and examples to demonstrate your ability to do the job. If you can, make a visit to the employer or contact them before applying. This will help you to stand out, demonstrate your enthusiasm and help you understand the role better. Before an interview, always prepare well, ask any questions to clarify things you are unsure of. The careers team at Newman can help you through the whole process.
There is lots of literature and guidance out there. Useful webpages include:
Applying for and securing a place on a postgraduate course
Every postgraduate course if different in terms of how you apply, what you need to include and the interviews they conduct. Look at the University website of where you want to apply. Click here to search postgraduate course, the Find a Masters website is also useful and you can find more information about teacher training courses on the Get Into Teaching Website.
Hints and tips will be included on university websites about what they want you to include in your application and the interview processes but you will be expected to talk about why you want to do the course, your career aspirations, the relevance of your experience and education and your personal qualities. Like securing a job you will be expected to demonstrate your suitability and stand out from the crowd. Tips are included on TARGET Jobs Postgraduate study information. The careers team at Newman can help you through the whole process.
For more information about postgraduate funding, look at this useful link to Prospects Postgraduate Funding Guide. Also, check out the Postgraduate Study Pathway on My Career, where you can have exclusive access to the Alternative Guide to Postgraduate Study.
Self-employment
If you have the ambition and drive to bring your ideas to life, going self-employed could be the key to your success. Check out the Self-employment guide and don't forget the support available at Newman.
Setting up a LinkedIn profile
Set up your LinkedIn Profile. LinkedIn provides guidance in setting up your profile and you can also seek support from a member of the careers team. LinkedIn is a social network for professionals. It can act like an online CV and allows you to find and connect with new professionals, search for jobs and receive endorsements for your skills.
Seek professional support
It is a very competitive job market so if you are not successful don't become disheartened. It may be the case that a small change here and there would result in success for you. The careers team can check applications, do mock interviews and give you feedback.
For personalised one-to-one advice and guidance, book an appointment with a member of the Careers Service through your My Career account. If you are coming to the end of a level 5 undergraduate degree, are a final year undergraduate student or recent graduate, you are also eligible for a Careers Progression Coaching to help you develop your career management skills and reach your goals. For more information, please email: careers@newman.ac.uk.
Attend a workshop or event run by the Careers Service. To find a workshop or event and to book a place log on to your My Career account.
Access useful information, advice and guidance on things like CV's, applications and interviews on the Careers intranet resources page.
Once you have successfully gained employment and/or a place on a postgraduate course, move on to the Sorted pathway.