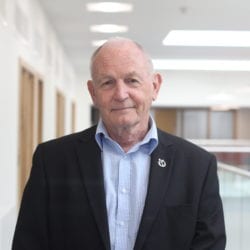 John Carlisle joined the Newman Council as a Catholic member in 2015. Currently retired, having sold his UK consulting company, JCP, in 2002, he continued the work of implementing the strategy of increasing productivity through cooperation – not competition – in his two companies in South Africa and Australia until 2012. He has a BA (econ), BA Hons in psychology, and an MSc in social enterprise and cooperatives.
After working on the copper mines of Zambia, he emigrated to England in 1971, where he joined Johnson Matthey, before joining Neil Rackham's Huthwaite Research Group in Sheffield, where he carried out extensive research in purchasing negotiation, identifying the positive correlation between cooperation and profit.
The John Carlisle design of collaborative negotiation training was applied in over twenty countries for thousands of participants, mainly within the supply chain; but also included over 100 HMG Under- and Deputy Secretaries, on the Prime Minister's Top Management Programme in the late eighties.
Above all, John Carlisle became best known for his success in organisational transformation through cooperation; i.e., individual learning and improved organisational performance. He had realised it was not sufficient to have people who were collaborative, but that the organisation needed to have collaborative competence, so he set about designing a programme for delivering this: Cooperation Works. The basis was to develop, not just trustworthy people, but a trustworthy organisation. The programme theme was: Espousing ethical values changes nothing if the organisational system/culture does not support them through behaviours and processes that support the values.
In 2001/2002 John Carlisle was Professor and Chair of the Johnson and Johnson Leadership Development Institute at Rhodes University, South Africa. One of his initiatives, as professor, was to introduce cooperative management systems to the commercial sector of the Eastern Cape.
He was visiting Professor at the Sheffield Hallam University Business School for eight years. During this period he sat on the Government Construction Strategy Procurement Team in the Cabinet Office.
In 2004 he was awarded an Honorary Doctorate by Sheffield Hallam University for his work on introducing productive cooperation in industry world-wide, especially major construction projects.
John Carlisle was the founder of the ASHBY MANOR PROJECT, a Trust set up on his farm in Queenstown, South Africa as a healing and community centre for the poorest HIV/AIDs sufferers and their families, providing them with social and spiritual and well as ongoing medical care.