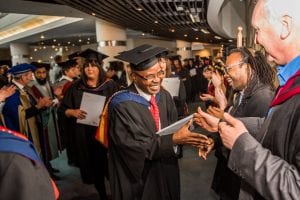 One of the key features of Newman is the excellent graduate employment rate of both its teacher training and single and combined honours degrees.
Newman prides itself on providing quality education and encouraging students to reach their full potential. This could be why Newman historically has one of the best employment rates of colleges and universities in the UK. Every full-time degree at Newman contains a work placement element so that you will gain the graduate level work experience valued by employers. Many of our students find their placement a useful way of gaining a greater understanding of the industry that they are considering working in and helps prepare them for employment. This can, in turn, help them to refine their career options.
Transferable skills
Studying at Newman can help you to meet the demands of the modern job market. Employers are increasingly looking for additional transferable skills as well as having a degree from a leading university. As the number of graduates in the UK increases each year the graduate employment market is becoming ever more competitive. Suitable employment after graduation is no longer as certain as it once was and the employment rate can vary significantly between courses. As studying for a degree represents a significant investment in both time and money, you want to ensure that you do all that you can to be in the best possible position.
Designed to meet the needs of employers
The emphasis on providing skills relevant to the workplace continues in Newman's postgraduate and foundation degree level courses. Indeed the foundation degrees are specifically designed to meet the needs of employers and can be studied whilst working. This enables students to apply the knowledge gained on their course to their current job and gain qualifications relevant to the industry. This can help them to gain a greater understanding of the industry as a whole and demonstrate development to progress their career.
Invest in your future
Gaining a degree is a definite investment in your future. Typically, graduates are exposed to many more job opportunities and can look forward to much higher average lifetime earnings. Our careers service will help you to seek part-time work opportunities whilst you are studying and provide you with help for the longer term, offering job hunting advice, knowledge and practice with interview techniques and help with up-to-date CV writing.
Our degrees have been designed specifically to bear relevance to the world of work in order to maximise the opportunities open to you after graduation. Whilst gaining a firm theoretical understanding of your subject at Newman, you will also gain much valued practical experience, and be encouraged to think analytically and creatively
Graduate salaries
Newman Students' success in the graduate employment market isn't restricted to securing employment, they are also successful in finding well-paid careers.  The average starting salary for a Newman graduate is high at £22,000 p/a according to Which? University
Higher Education Achievement Report
In addition to your degree certificate Newman University is one of only a small number of universities which will also provide you with a Higher Education Achievement Report (HEAR). This is designed to capture more fully your experience, activities and performance throughout your time at university. It will enable you to present a wider range of achievements to employers and postgraduate tutors, potentially enhancing your employability or opportunities for further study.
The 'HEAR' will sit alongside your degree certificate and contain:
A detailed academic record of modules taken and marks obtained
A record of additional achievements, such as volunteering, representative roles (including representing fellow students through the Students' Union or Staff/Student consultative committees) or working for the university as a student ambassador.