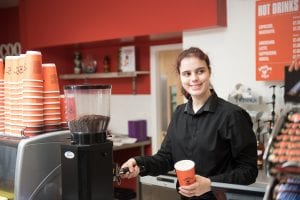 Atrium Cafe
Atrium Café is situated in the atrium of St Chad Building, near the reception area. It serves Starbucks coffee, sandwiches, cookies and cakes.
The Sanctuary and Grumpy Mule
The Sanctuary is the main university cafeteria, and offers a variety of hot meals, plus a salad bar, a pasta bar, snacks and hot drinks with the option of Grumpy Mule cafe. The Sanctuary is located in the Barberi Building.
Senses Bar
Senses Bar is the on-campus student bar. It hosts a wide variety of student entertainment, including live music, comedy shows and TV sports. The bar also has comfy sofas and a pool table.