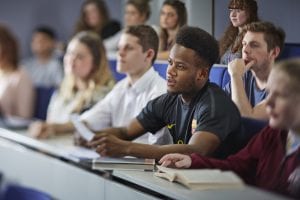 Foundation degrees are equivalent to the first two years of an undergraduate degree, and normally take three years to complete part-time. Designed in consultation with employers they give students the relevant skills and knowledge required by employers in specific fields, whilst also encouraging appropriate skills such as research and evaluation necessary for higher level work.
Newman has significant expertise in the development and delivery of Foundation degrees, and works in partnership with employers, Government bodies and regulatory organisations, as well as further education partners. These successful collaborations ensure students are equipped with a wide range of generic workplace skills and sector specific knowledge and understanding to become leaders in their chosen field.
Many students who would not consider themselves eligible for higher education often find that a Foundation degree gives them the welcome and support they need. The focus is on combining study with work and making useful connections between the two. Entry requirements are flexible too, recognising the value that students with significant work experience in relevant areas bring to the group as well as a variety of vocational and academic qualifications.
Newman's Foundation degrees have been developed recognising that students have busy lives and other demands on their time. Part-time courses typically run in the evenings and/or at weekends to allow you to combine study and work commitments.
The aim of Foundation degrees is to focus on work-based learning, enabling you to make connections between theory and practice supporting professional development. Successful completion of a Foundation degree will enable you to progress on to the final year of an Honours degree in a related subject.
Newman University also offers innovative Foundation Years for entry onto our Arts and Humanities and Social Sciences degrees. They are pre-degree courses that, if passed, leads onto into various of existing degree courses. Students apply for a named degree but can swap onto other degrees in the course of the year, if the subject tutor agrees. For further information please visit the Foundation Year course pages.
In addition to foundation degrees, Newman also offers a Introductory Certificate in Counselling, which offers professional training within an established area of counselling, enabling those with a serious interest in counselling as a profession to gain a solid understanding before embarking on the foundation degree programme.