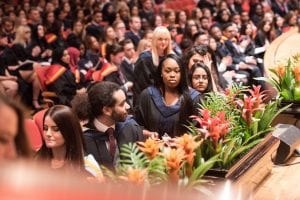 GUEST TICKETS
As the Graduand, your ticket is free.
ALL guests are required to have a ticket; £23.00 each for adults, £13.00 each for children (12 years and under) plus booking fee (see below).  All ticket prices include VAT.  For health and safety reasons & Symphony Hall requirements, all children regardless of age, must be allocated a seat and therefore require a ticket.
Graduands can purchase tickets through the Symphony Hall box office by following the link at the end of the Graduation Confirmation task on mynewman.  Booking fees are £2.50 per ticket for online booking and £3 per ticket for telephone and counter bookings.
Guest tickets are allocated on a first-come, first-served basis, by purchase.  There is no limit to individual bookings.
Income generated by guest tickets sales assist in covering the costs associated with holding our Graduation Ceremonies at Symphony Hall.  No profit is made by the University.
Guests will be allocated a specific seat (Graduands do not sit with their guests) and individual requirements (i.e. mobility issues, sight or hearing problems) should be stated at the time of booking.  Seating is available for guests in wheelchairs and a companion.  As this area is limited, only one companion can be seated in the box.  For more information, click here.
If any of your guests are unable to attend, please inform the Symphony Hall booking office.
In the case of an emergency or force majeure, events associated with the student lifecycle i.e. graduation ceremonies may need to be cancelled.