Part-time courses for Professionals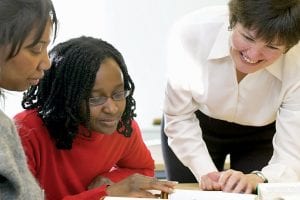 Part-time courses for Professionals
Courses offered at Newman have been developed in close consultation with a range of employers and practitioners, and have been designed to develop transferable skills that are relevant to your work, as well as leading to a valuable academic qualification.
Early Childhood Education and Care part-time top-up BA (Hons)
This course is aimed at those wishing to continue study from foundation degree level to a full honours degree, so you can progress your career within the field of early childhood education and care. It will provide an academically rigorous study of educational and learning theories, policies and practices in a range of contexts.
Early Years Foundation Degree
This sector endorsed course is aimed at practitioners working in the Foundation stage/KS1 within schools, those seeking progression routes into management positions in early years settings or those with experience working with young children in a relevant setting. If you want to continue your studies you may progress on to the final year of a relevant degree programme, including the part-time Early Childhood Education and Care top-up award, which will support those wishing to pursue a career in teaching (further study and qualifications are needed).
Teaching and Learning Support Foundation Degree
If you are employed as a teaching assistant or work in a similar capacity supporting learners in primary or secondary schools, then this course will build on your existing professional skills, knowledge and understanding. If you want to continue your studies you may progress on to the final year of a relevant degree programme on successful completion of the foundation degree. This could provide the next step towards a career in teaching.
MA Education
We offer a generic MA Education and also an MA Education with specialist routes in: Leadership and Management; Learning and Teaching; Mentoring and Coaching; Inclusion and SEN; Early Childhood Education and Care; Safeguarding; Higher Education. The programme promotes critical engagement in a range of contemporary issues pertinent to specific interests and needs and you are encouraged to explore your own personal and professional interests and expertise.
Professional Practice top-up – BA Hons
The BA (Honours) Professional Practice is designed for those wanting to influence and improve their professional practice in the workplace through the pursuit of the concept of the professional as a learner, achieved through reflective practice. Central to this is being not only responsive to change but being proactive in facilitating the change process.
Postgraduate Certificate in Early Childhood Education and Care
If you choose the following three modules as your first modules – The Developing Child and Pedagogy in the Early Years – you can gain this award in addition to the MA Education.