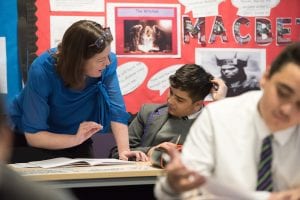 Information for Schools
Newman aims to build constructive, reflective and responsive working relationships within early years settings, primary, secondary and middle schools and other non-formal education providers. Partnerships allow for pedagogic dialogue between professionals and provide settings where undergraduate and postgraduate students can undertake placements lasting from a few days to a year.
Successful partnerships ensure that our programmes are relevant and up-to-date for the next generation of teachers who are entering the profession and provide schools with the opportunity to use Newman's strengths to support community cohesion developments.
Newman students bring new ideas, energy and enthusiasm to schools, reduce pupil/adult ratios, allow teachers to reflect on their own practice as well as bringing additional funding. At the same time Newman offers a member of staff to support, free mentor training, professional and academic accreditation for school-based tutors and negotiated CPD opportunities which impact upon school improvement.