PGCE Secondary ITE Interviews
Last Updated: October 19th 2021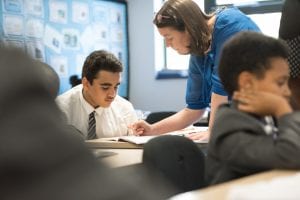 Our courses fall in line with the Department for Education (DfE) statutory guidance and criteria.  This means that applicants will be required to comply with specific entry criteria as well as taking part in a selection process which has been designed to assess their suitability to train to teach.
The Interview Process
If you are invited to attend an interview for a teacher training course, your interviewers will be looking for you to demonstrate qualities expected of an applicant with the potential to train to teach, including:
Your passion to become an outstanding teacher;
An ability to discuss a recent educational issue;
An enthusiasm for your individual subject area;
An ability to communicate effectively with individuals and groups;
A commitment to ensuring that children achieve their full potential.
Newman University uses a number of methods to assess these qualities in students being interviewed. The interview day is made up of 2 main components:
Formal interview
Micro-teaching
Micro-Teaching Session
The task is about you and your communication skills and your ability to engage an audience. The session should last no longer than five minutes and you will be addressing a group of fellow applicants.
The interviewers will be looking for you to include:
a brief introduction;
a main body, making good use of the time available and engaging the audience;
and a definitive ending summarising the learning
All PGCE Secondary applicants (except PGCE Secondary PE) will be required to undertake a five minute task where you will be asked to 'teach' a concept from your specific subject area.
Applications for PGCE Secondary PE
If you have applied for a PGCE Secondary PE course, your interview day will also incorporate a one hour practical test, observed by PE tutors.