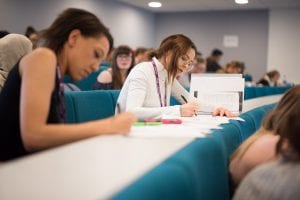 'The outcomes for trainees are good. Trainees' attainment is high, especially through the School Direct route, where around three quarters of trainees were judged outstanding at the end of their training in 2015.'
Ofsted Report, December 2015
School Direct (PGCE with QTS)
School Direct is a school-based approach to teacher training, which in many ways mirrors the life of a 'real' teacher, as you are based in school from the very start of the training and for the majority of the course.  The School Direct training at Newman runs alongside existing PGCE and undergraduate programmes. When you successfully complete the course, you are awarded a postgraduate certificate in education (PGCE with QTS) with the opportunity to attain additional Masters' credits.
Newman University continues to provide high quality School Direct primary and secondary places, working in partnership with a number of schools across the region.  As one of the main School Direct providers in the West Midlands, Newman University secured a significant number of places with school partners for September 2020.
Schools work in partnership with Newman University to recruit trainees and train them according to an agreed programme.  For most trainees this will involve undertaking training at both their School and the University on occasions throughout the year.
School Direct is also a way of growing schools' own teachers and future leaders; it can make a key contribution to school improvement strategy and help the continuing professional development of staff.
How does it work?
The programme lasts for one year, during which time the trainee is based mainly in school. Schools are at the heart of the School Direct process and agree with the University about how the training programme is delivered. Some schools prefer Newman University to deliver all aspects of pedagogical training, while some schools choose to deliver aspects of this programme themselves. The majority of our partner schools work in partnership with other schools; these clusters vary in size and some might cover both primary and secondary phases. Each cluster of schools has a 'lead school' that manages and leads the programme.
Once you have completed the year and training, schools might offer employment within the school or partnership.
Salaried and Training Routes
There are two types of programmes available across both primary and secondary phases. Schools will have already indicated which types of places they are offering. Both programmes are for one academic year and are full-time.  Salaries and bursaries are available to support you and your training – but these depend upon the places offered by the school and the phases/subjects. Individual schools decide whether they are offering salaried or training places. Further information is available on the 'Eligibility and Funding' section.
School Direct  – Salaried Route
Aimed at those with three or more years' career experience. This experience will normally have been gained since leaving university and does not have to be from an educational setting, although it could be. Primarily, the salaried route is designed for career changers.
You are employed as a member of staff in school, as an unqualified teacher and paid a salary (between £15,976 and £25,267 [2019 figure]), check the salary with the school before you apply.
School Direct – Training route
Open to all graduates who meet the minimum entry requirements. You are strongly advised to check the entry requirements prior to application.  If in doubt, contact our admissions department for clarification.
Funded by tuition fees (£9,250 – 2020 entry): paid by the trainee directly. You will be eligible for the standard student support package, including training bursaries, tuition fee loans and scholarships where applicable.
For Training Bursaries information, click here.The training programme will be for one academic year and is a full-time programme.
In both cases, there are minimum entry requirements.
In addition, we are looking for people who have the right personal qualities and potential to be an outstanding teacher. While experience of working with young people is not essential, it is often found that the strongest applicants are those who have shown an interest in working with young people and a willingness to get some experience of school where possible. You are likely to be asked at interview about your experiences of being in a school, even if it just from an observational point of view.
Timeline for 2020 entry:
[table id=17 /]
How To Apply
All applications must be made through the UCAS website.  The UCAS website also lists available schools and places. Some schools and courses are very popular and fill up quite quickly.  While there might be some vacancies throughout the year, you are advised to apply as soon as possible.  This year, the NCTL has indicated that it will manage capacity; this could possibly mean that some places are not available later in the year.
Details about all the routes available for teacher training and an explanation of how to apply can be found at www.ucas.com/how-it-all-works/teacher-training.
Applications for teacher training opened on the 8th October 2019 for September 2020 entry, you may select three choices for a route into teaching.   These applications are forwarded to Newman University and/or the School(s) selected. Candidates must meet Newman's standard entry requirements and the school and the University then decide whether you will be invited for interview. Early application for courses is highly recommended.
Entry Requirements
Schools work with Newman in the process of interviewing and selecting candidates but all School Direct candidates must also meet Newman's standard entry requirements:
First degree of a UK Higher Education Institution or equivalent qualification. This must be of a 2:2 or above (Although in some cases a 2:1 might be required.  You should check the PGCE course requirements for the phase/subject in which you are interested for details.). Secondary candidates should note that at least 50% of their subject knowledge at degree level should match the subject/s to be taught. An academic Transcript may be required
For Secondary candidates; A standard equivalent* to a grade 4 (or C) in the GCSE examinations in English Language and Mathematics
For Primary candidates; A standard equivalent* to a grade 4 (or C) in the GCSE examinations in English Language, Mathematics and Science
A good understanding of issues in education
* If you do not have a GCSE in these subjects, you MUST check the equivalency of any qualification you have.  NARIC can advise you and if in doubt you should contact our admissions department for clarification.
As part of the selection procedure, candidates will be requested to take part in a rigorous selection process designed to assess suitability to teach.
Training to Teach with Newman
Newman has an established reputation for producing high quality teachers, who understand the needs of the children they teach, and develop creative and effective practice. Newman's experienced tutors and strong relationships with schools throughout the West Midlands will support your learning and ensure high quality education.
School Direct is a way of growing schools' own teachers and future leaders; it can make a key contribution to school improvement strategy and help the continuing professional development of staff.
Benefits of School Direct for schools include:
Selecting the trainees that come into school(s)
Customising the training to suit the needs of the school and trainee
Trainees get on board very quickly
Develop tailored training programmes with the chosen provider
Build stronger partnerships with other local schools, across teaching phases, and teacher training providers