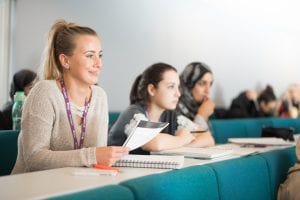 The portfolio of courses offered at Newman University is underpinned by strong staff expertise in teaching, research, and professional practice. Our degrees combine academic excellence with a professional focus so whichever subject(s) you choose to study you will gain in-depth knowledge and understanding of the latest developments in your field and, crucially, an understanding of how the knowledge and skills you develop are applied in the real world. Across all courses the focus is on providing an interactive learning experience where ideas are debated and discussed, differing theories explored and contrasted and creative thinking encouraged.
Across all the courses the focus is on learning that is:
Relevant to today's world
Practical in application
Responsive to the latest developments in your subject area(s)
The courses are designed to encourage you to question, be active in your learning and identify solutions to problems and issues. This will prepare you very well for graduate employment or further study at postgraduate level.
Alongside the academic quality of the courses a key feature of all degrees is the compulsory work-related placement. Both work placement and taught modules link academic study with employability skills and the needs of society at large.
The compulsory work placement not only provides you with a valuable and exciting experience of work, helping to refine your career choice, but is a valuable addition to your CV when applying for your first graduate position:
You will relate your academic studies to the workplace and be guided into choosing a placement linked to your career aspirations
You will gain experience in a relevant workplace, developing the types of experience valued by employers
You can complete a project in the workplace, helping to develop your understanding of how workplaces function and how your academic studies help you face practical challenges. In addition, your degree will equip you with research skills that will prepare you for possible higher degree study or postgraduate training in the future
Part-time degrees
To address the challenges many students face combining university study with work or family commitments, Newman has developed a range of part-time undergraduate degrees which take as little as one and a half extra years to complete compared to our full-time undergraduate degrees.
As a part-time student you could make significant savings compared to the total cost of a full-time degree. You will study alongside full-time students and have access to the same support, resources and extra-curricular activities (such as sports teams and societies).
As a part-time student you are able to access tuition fee loans for the full cost of your degree, but cannot access maintenance loans. Tuition fees for part-time courses cost significantly less than a full-time degree and you should be able to minimise the loans required to study by working more hours than full-time students to contribute to your living costs.
Find out more about our part-time degrees.