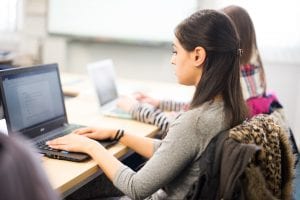 All applicants applying to start a teacher training course in September 2019 are required to pass literacy and numeracy professional skills tests. Late applicants must pass the skills tests before applying. These tests are carried out to ensure you have the expertise to meet your professional responsibilities. The numeracy and literacy tests cover the core skills that teachers need to fulfil their wider professional role in schools, rather than the subject knowledge required for teaching.
To register for a skills test visit the Department of Education. We advise that you practise the tests beforehand as these are timed tests. You can access practise tests here. Applicants must submit an application before taking the tests as evidence must be provided when attending the test centre.
In February 2018, changes to the arrangements for the skills tests were announced by the DfE.
• Candidates will have unlimited attempts to achieve a test pass.
• The 2-year lockout period will be removed; candidates previously locked out will be able to book tests for both subjects.
• All candidates will be able to book 3 tests per subject, free of charge. A charge will be applied from the fourth test attempt per subject.
Skills Tests Support Sessions
Newman University offers Support Sessions for teacher training applicants in preparing for the national professional tests in literacy and numeracy. The sessions are delivered by expert tutors who will cover key areas of knowledge alongside test techniques. The tutors have experience of developing confidence through targeted revision and clear explanation of the tests.
These courses are FREE for potential student teachers who have accepted a place on one of our courses.
| Date | Literacy | Numeracy |
| --- | --- | --- |
| Thursday 27th June 2019 | 4.00pm – 6.00pm | 6.30pm – 8.30pm |
Please contact Estelle Vale via fed@newman.ac.uk
or telephone 0121 483 2257