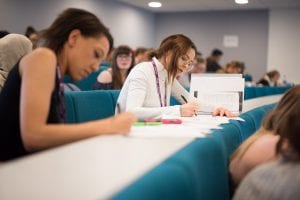 Some aspects of studying at university are very different from school, college or the workplace. This is especially true if you have been out of education for a few years. As a service we can provide you with advice on the general study skills that underpin your chosen degree course.
We offer a range of study skills workshops, as well as one to one appointments and short drop-in sessions. Ask to see the workshops timetable, drop-in timetable and one to one appointment times.  We also have self-help guides and advice on aspects of study skills that we can direct you to.
The Learning Support Tutors are available to discuss any general study skills queries that you may have, advising and supporting you to help make your time at Newman University as enjoyable as possible.
Book an appointment to see a Learning Support Tutor:
If you have any study skills queries, for example, grammar, spelling, time management
If you want to improve your essay grades
If you are concerned about a particular aspect of your studies
If you want advice on note-taking, essay writing, exam preparation
The Learning Support Tutors are available Monday – Thursday 9.00am – 5.00pm, Friday 9.00am-4.30pm and Wednesday until 8.00pm, by appointment and can be found in rooms DW204 and DW214a, in the Student Support Centre, Dwyer Building (across the bridge from the library).
Contact details
Contact: Jacqueline Ridge-Stearn
Position: Learning Support and Development Tutor
Tel: 0121 476 1181 (Ext. 2525)
Email:J.Ridge-Stearn@newman.ac.uk