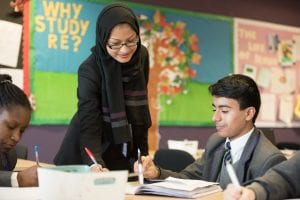 Working in Partnership
Partnership provides a range of benefits including access to continuing professional development (CPD) opportunities, awareness of developments within education, development of bespoke activities and support for the learning experience of everyone involved.
There are numerous other ways we can work together and you will find us friendly and responsive and keen to customise what we do to your requirements. Including providing short courses, professional development, honours degrees and postgraduate qualifications in teacher training, counselling, education, and children, families and young people related subjects.
School Partnerships
Newman aims to build constructive, reflective and responsive working relationships within early years settings, primary, secondary and middle schools and other non-formal education providers.
Partnerships allow for pedagogic dialogue between professionals and provide settings where undergraduate and postgraduate students can undertake placements lasting from a few days to a year.
Successful partnerships ensure that our programmes are relevant and up-to-date for the next generation of teachers who are entering the profession and provide schools with the opportunity to use Newman's strengths to support community cohesion developments.
Newman students bring new ideas, energy and enthusiasm to schools, reduce pupil/adult ratios, allow teachers to reflect on their own practice as well as bringing additional funding. At the same time Newman offers a member of staff to support, free mentor training, professional and academic accreditation for school-based tutors and negotiated CPD opportunities which impact upon school improvement.
School Direct is the new way of training teachers that puts schools and school-based experience at the heart of the process. Schools take the lead and recruit teachers in the subjects they choose, and can work with Newman to deliver a high quality, bespoke training programme, which runs alongside existing PGCE and undergraduate routes.
Newman currently works with over 20 'lead' schools across both primary and secondary phases to support trainees in over 50 schools. Once schools register and request places with the National College for Teaching and Leadership, prospective teachers use the Newman website to explore the opportunities available to them. Newman works with schools in all aspects of the process – managing applications, confirming eligibility, coordinating and conducting interviews – and also to develop a training programme incorporating induction and embedding pedagogy to support trainees in achieving QTS and a PGCE.
Newman has built a number of partnerships and uses the concept of lifelong learning to offer wider CPD opportunities for staff at the schools supporting trainees. With an evolving and growing School Direct programme, Newman has been able to offer reliability and quality assurance while developing its negotiated agreed training programme for schools and trainees.
Newman can offer:
Friendly, bespoke support
One of the leading teacher training providers in the UK – ranked in the top ten nationally for teaching
Accredited teacher training with wider CPD opportunities for staff supporting you.
An agreed training programme with support through all stages of the process
An established and rapidly growing School Direct programme
Find out more details about establishing a School Direct programme.
Catholic Partnerships
Successful primary and secondary education across the Midlands has been driven for almost two decades through our Catholic partnerships. The Birmingham Catholic Primary Partnership offices are situated only a short walk from Saint Mary's Chapel at Newman University. The success of their work can be seen in the outstanding and innovative provision across Catholic schools in the Midlands. The quality of professional development is evidenced in children's academic success and spiritual lives; teachers' day-to-day classroom practice and leadership that places Jesus Christ at the centre of each school. The dominance of Catholic primary schools in national and local league tables is only a very small indicator of the impact of the professional development organised by the Birmingham Catholic Primary Partnership.