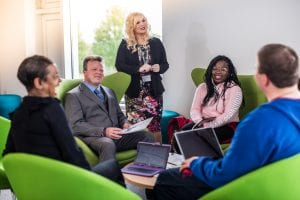 Careers Workshops and Events
The careers service provides a variety of workshops to support your career development. Sometimes it is useful to attend workshops before seeking one-to-one support. Please see the workshop poster attached below with a full list of workshops. More will be added during the summer for the new academic year. To book a place on any workshop you must log on to My Career search for the workshop under events and book your place. Joining instructions will be on each event page as well as any changes to dates/times. If you are using My Career for the first time you will need to register and create a profile before booking a place on a workshop or event.
Available workshops include:
Careers Core
CV Writing and Application Forms
Interview Techniques
Jobs and Placement Search
Career Planning – What Can I do With My Degree?
Careers Bespoke

Disclosing a Disability Positively as Part of The Recruitment Process
How to use LinkedIn Successfully
Applying for a Postgraduate Teacher Training Course
Getting Your First Teaching Post (Job Search, Application and Interview)
Virtual Careers Fair – How To Prepare and Get the Most from the Day
Award for Careers and Employability (ACE) – An Introduction

New/Part of the Transformation West Midlands Project

Thriving in Tough Times to Keep Moving Forward – How to Build Your Resilience
 Postgraduate Funding Through Grants
Teaching Applications and Inter­views – An Employer Perspective
New Workshops will be An­nounced Throughout The Year
All worksops will be delivered via zoom for semester 2. Find zoom instructions on each event page on My Career.
For more information please email careers@newman.ac.uk