Alumna sets up Brum Baby Bank to help parents across the city
07/04/2020 by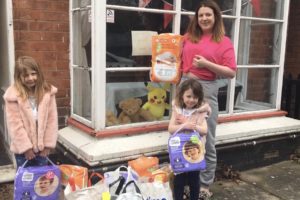 Alumna of Newman University, Councillor Nicky Brennan have responded to the struggle of some parents across Birmingham who found themselves without essential items such as nappies for their children.
With supermarkets selling out of various items, Nicky decided to collect donations of items including nappies, formula milk, baby food and wipes as well cash donations to allow them to help those in need.
Nicky is a City Councillor and former History student at Newman University, graduating in 2014. Brum Baby Bank has received many donations, which have since been distributed across the city and the Go Fund Me page created for the cause has already raised over £1,000.
Nicky commented, "We are grateful to your kind and generous donations to keep Brum's babs fed and well."
Nicky aims to collect and distribute the items herself or arrange collections, if you would like to help you can email brumbabybank@gmail.com or donate via the Go Fund Me page.