Cultures of Care: Chris Langley looks at the ways people looked after each other in times of crisis in new book
09/07/2020 by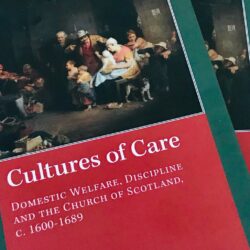 Senior Lecturer in History, Chris Langley, has seen his latest book Cultures of Care: Domestic Welfare, Discipline and the Church of Scotland, c.1600-1689, published in Brill Publishing's St Andrews Studies in Reformation History series.
The book explores the ways in which people looked after each other in times of crisis and how the dominant Protestant Church engaged with domestic care networks across the seventeenth century. It explores themes ranging from childcare, disability and palliative care, recording intimate details of individual care arrangements, the strain it could place on families and the support they could provide in times of real crisis.
Unlike most other studies of pre-modern charity, Cultures of Care moves away from exploring the official aid handed out by churches and local councils, to analyse the arrangements people made in their homes – sometimes in secret – to help their neighbours. The book also argues that 'official' types of charity, especially that distributed by the Church, worked in tandem with domestic welfare networks to create a pervasive culture of care. Ultimately, despite Scotland having experienced a religious reformation, there were limits to the ways the new Protestant authorities could (or even wanted to) intervene in domestic affairs.
Cultures of Care builds on Langley's previous research into everyday religious life in early modern Britain and Ireland and looks at the relationship between the Church and the people. To find out more about his work you can visit his Staff Profile, and to discover more about Cultures of Care you can visit the publisher's website.