Dr Akubat appointed to the Board of BASES as Chair of the Sport & Performance Division
14/12/2020 by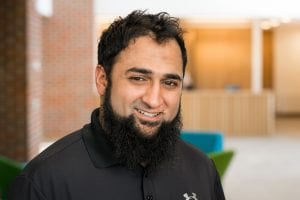 Dr Ibrahim Akubat, Senior Lecturer in Sport and Health at Newman University, has recently been appointed to the Board of British Association of Sport and Exercise Sciences (BASES), as Chair of the Sport and Performance Division and as a member of the board.
BASES is the professional body for sport and exercise sciences in the UK and drives excellence in sport and exercise sciences through the promotion of evidence-based practice and the development and enhancement of professional and ethical standards, and are responsible for accrediting sport & exercise scientist in the UK.
On his appointment Dr Akubat commented: "I'm really pleased to lead the sport & performance division on behalf of the many UK & international sports scientists working in elite sport. Having led the CPD for BASES for the last four years I am looking forward to be able influence policy and drive change for the benefit of students looking to work in elite sport".
Dr Akubat is widely known as an expert in Athlete monitoring and during the national lockdown in March he presented to thousands of coaches and sports scientists at an event entitled 'Navigating The Training Process: Theory To Practice', which can be viewed online.
Dr Akubat will be hosting a special roundtable discussion for BASES this Wednesday (16th December) entitled "To Break or Not to Break" with performance staff that are working with or have worked at some of the UK and Europe's Largest clubs, including Real Madrid, PSG, Man Utd, Southampton, Celtic FC, Chelsea, and Arsenal.
Attendees will be discussing how teams will cope with the extra games over the Christmas period and how the different approach in Europe compares. The webinar takes place on Wednesday 16th December at 3pm and is free to attend. You can register for the webinar by visiting the BASES website.