Dr Fiona Reid uses expertise on BBC programme
21/10/2020 by
Newman University's Dr Fiona Reid, Associate Dean for the Department of Arts, Humanities and Human Sciences recently featured on BBC's 'Who Do You Think You Are?'
The episode which aired on Monday 19th October featured comedian, actor and writer, David Walliams who was to learn more about his great-grandfather's experience during World War One which led him to spending many years in, what was then known as, a lunatic asylum due to the damage to his mental health.
Dr Reid's expertise was called upon as she has published widely on shell shock and facial injury in the First World War, the former being something David Walliams' great-grandfather had been diagnosed with at the time.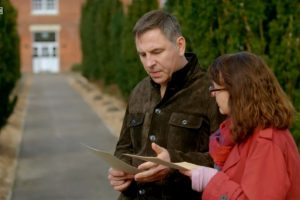 Dr Reid met with David Walliams for the programme in St Albans at Napsbury Park to aid with understanding more about what happened in his great-grandfather's past and spoke more about the post-war treatment of shell shock.
Fiona Reid's available books on this topic include, Broken Men: Shell Shock, Trauma and Recovery in Britain (Bloomsbury, 2011) and Medicine in First World War Europe (Bloomsbury 2017). She has recently published 'Prevention! Not Curation: Medical Voices Against the War' (with Leo van Bergen) in The First World War and Health: Rethinking Resilience (Brill: Leiden, 2020)
David Walliams was able to learn from Dr Reid more about his great-grandfather and the difficulties he faced after the war, which was one part of his journey on the BBC programme.