Dr Ibrahim Akubat presents at BASES webinar 'Fasting and Football'
30/03/2022 by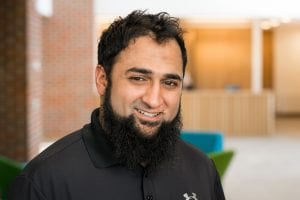 Dr Ibrahim Akubat, Senior Lecturer in Sport and Health at Newman University, has recently presented at a webinar hosted by the PFA (Professional Footballers Association), Premier League and BASES (The British Association of Sport and Exercise Sciences) entitled 'Football and Fasting'. The webinar explored the conditions for Muslim athletes during the fasting period of Ramadhan.
The webinar brought together an international panel of academics and practitioners to share information, research and practice. The panel included Riz Rehman (EDI executive, PFA), Prof Karim Chamari (Aspetar, Qatar), Dr Zafar Iqbal (Crystal Palace FC,), Nabil Shah (Leicester City FC), Jennie Carter (Wolverhampton Wanderers FC Academy) as well as Dr Ibrahim Akubat who is also the chair of the BASES Sport & Performance Division.
Dr Akubat commented, "It was great to be able to work with the Premier League and Professional Footballers Association to bring this webinar together. It's an important issue for support staff and policy makers to understand if they want a truly inclusive sport and to break down barriers. All the top teams in Europe rely on Muslim footballers. You have Karim Benzema (Real Madrid), Ousmane Dembele (Barcelona), Hakim Ziyech/Ngolo Kante (Chelsea), Paul Pogba (Man Utd), Riyad Mahrez (Man City) to name a few.
Following the webinar a number of professional sports teams have been in touch for more information, so I'm happy that the purpose of raising awareness has somewhat been achieved. There are a number of organisations that are doing good work around this topic but we were able to bring in experts from around the world and examine the practical issues around fasting, performance, nutrition, hydration and the relevant information on Islamic jurisprudence on fasting. We are looking to expend research on this area from a multidisciplinary perspective".
A recording of the webinar 'Fasting and Football' can be viewed online.