Dr Sharif sees work published in recognised journal
27/01/2021 by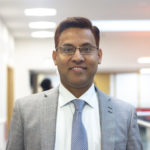 Dr. Taimur Sharif, Head of Business at Newman University, has co-authored and published a research paper on logistics management in the International Journal of Physical Distribution & Logistics Management (IJPDLM), published by Emerald. The journal holds "A" rank in the ABDC list of recognised journals.
The research titled "Exploring shippers' motivations to adopt collaborative truck-sharing initiatives" has explored and ranked the motives for adopting a truck-sharing concept (where shippers share the same truck for delivery) as a mechanism to improve transport capacity. Based on the findings, managers of carriers would now be able to categorise shippers according to their specific needs and thereby customize promotions to attract more shippers.
The research can be accessed via the Emerald website.
You can view more about Dr Sharif's research by visiting his staff profile.