Dr Stefan Lawrence invited to discuss racism in football on Al Jazeera
23/07/2021 by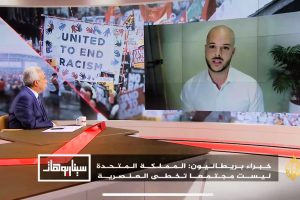 Newman University's Dr Stefan Lawrence was invited to speak on Al Jazeera for a discussion on racism in football and within British society yesterday, 22nd July.
The programme discussed whether the cause of racism in Britain is down to individual actions or if it is structurally rooted within society, and what needs to be done to stop racist abuse in the future.
Dr Lawrence was asked to provide expert commentary following racist tweets that were sent to England players after their European Championship final defeat against Italy. Dr Lawrence commented that some fans' negative reactions to the taking of the knee before games as being emblematic of the broader cultural divisions and tensions currently playing out in English society, post-Brexit. He also called on governments, commercial sponsors and tech companies to do more to fight racism and to prevent racist abuse happening online.
Find out more about Dr Lawrence's research.