Dr. Taimur Sharif receives Chartered Manager Status
14/01/2021 by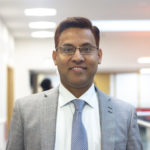 Dr. Taimur Sharif, Head of Business at Newman University, has recently received the Chartered Manager (C.Mgr.) status from the Canadian Chartered Institute of Management (CIM).
A Chartered Manager is recognised to be someone who has developed various competencies in: Leadership, Strategy, Finance, Accounting, Management Operations and Organizational Analysis. Chartered Managers are part of an international network of management professionals who deliver value to organizations at the highest level.
CIM | Chartered Managers Canada has an international reciprocity with the UK Chartered Management Institute (CMI) for the Chartered Manager designation. Taimur also holds the UK chartered manager (CMgr. FCMI) status for more than a year now.
The reciprocity between CIM and CMI allows Taimur to contribute to economic success globally, having his designations recognised worldwide.
For more information on the business courses at Newman University, visit the course pages.