EXCEL: Enabling Enterprise & Entrepreneurship at 4th annual Enterprise Day!
31/10/2017 by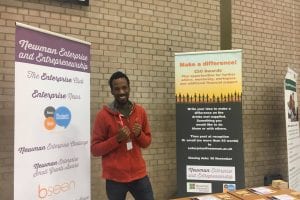 Newman University students, staff and visitors will have the opportunity to try, make and create at this year's EXCEL enterprise day, to be held in the university's Central Atrium on Thursday 9th November 2017!
The interactive and engaging enterprise day will be opened at 10.00am by Stuart Emmerson, (Regional Director, Social Enterprise UK) and throughout the day we will be celebrating the positive social and environmental impact that such community minded businesses make. It is in the week leading up to Global Entrepreneurship Week.
Social enterprises, businesses who trade for good, from across the city will be demonstrating and selling their products ranging from soaps and candles, to bags and plants, from a football or driving challenge to a 'make your own smoothie' bike and even some gin-infused shortbread.
There will also be a number of stalls at the ENTERPRISE EXCHANGE that have a wide range of information for students, and staff, who are interested in enterprise start-up. Newman University is leading the way in south Birmingham by providing innovation initiatives to encourage individuals to turn their enterprise idea into reality.
Also represented will be Newman Health and Wellbeing, now in its second year, which provides counselling & psychotherapy to individuals directly and via schools and other organisations on a social enterprise basis. As well as its Reach Out service, an innovative, street-based youth work project which engages socially excluded young people from Bartley Green in public spaces where they gather, such as shopping precincts and parks.
Each year, Newman University hosts the NEWMAN ENTERPRISE DRINKS MAT CHALLENGE, to encourage students to express their enterprising idea (on the back of specially commissioned drinks mats) in no more than 50 words. Students whose entries havethe most potential will be awarded £50 of highly sought after vouchers to spend as they wish. The Challenge closes for entries on 30th November 2017.
This year Newman University will also be running two ENTERPRISE ESSENTIALS drop-in sessions – at 12.30pm and again at 1.30pm on Thursday 9th November 2017 in the Library Lecture Theatre – providing valuable insights and inspiration for all would-be entrepreneurs.
Kevin Griffiths, the Enterprise and Employer Engagement Manager at Newman University who is leading the events during November, explains, 'The Newman University enterprise day is now firmly part of our annual calendar of events for students and staff. It provides an opportunity for us to share our enterprise knowledge and expertise, inspire the next generation of entrepreneurs and open our doors to the benefits and positive outcomes that social enterprises bring to local and regional communities.'
EXCEL: Enabling Enterprise & Entrepreneurship takes place from 10.00am to 3.00pm on Thursday 9th November 2017 at Newman University, Genners Lane, Birmingham B32 3NT.