Founder of British Inspiration Trust visits Newman University
27/01/2020 by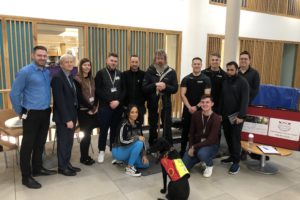 Phil Packer, MBE, has today visited Newman University as part of the Row Britannia Challenge that students and staff at the University are taking part in.
Phil is the founder of the British Inspiration Trust (BRIT), which helps transform the lives of young people across the UK, who are facing trauma and adversity. Phil's work, experience and charitable appointments span Mental Health, Mental Fitness and Wellbeing.  He has a vast knowledge of fundraising, Corporate Social Responsibility strategies and has facilitated numerous collaborations between charities, businesses and communities.
Phil himself has successfully coordinated and completed numerous physical challenges that have raised national awareness, engaged audiences of millions and raised vital funds.  He promotes the importance of good mental fitness & wellbeing and champions inclusion, disability and support to young people and veterans.
Row Britannia is a campaign and event enabled by BRIT and has invited every UK university and college to take part in the challenge to raise money for Sport Relief.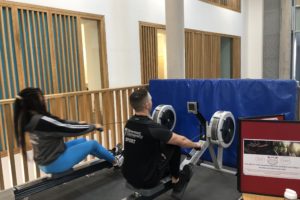 Staff and students from Newman University, as well as members of the local community have been taking part in Row Britannia 2020, aiming to not only raise money for charity but to unite and row for mental health. The team at Newman University started the challenge in November with the aim of rowing 3,251KM by 13th March, whilst raising money for charity along the way.
So far the team have rowed just under halfway of the 3,251KM (2020 miles). Phil visited Newman University, along with the Row Britannia boat, to show his support of the challenge and spoke to staff and students about why this challenge is so important.
Newman University would like to encourage all staff and students to take part in the challenge and this can be done by using the University gym or by sending proof of your rowed miles to Dom Ridgers.