Head of Law appointed as First Tier Tribunal Judge
08/06/2020 by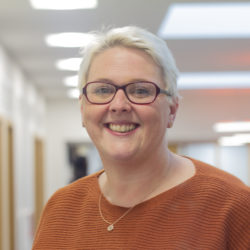 Amy Rushen, Head of Law and Criminology at Newman University has been appointed as a part time judge.  She will begin sitting as a Fee Paid First Tier Tribunal (Mental Health) Judge later this year alongside her role here at Newman.
The First Tier Tribunal (Mental Health) is part of the Health, Education and Social Care Chamber, one of 7 chambers of the First-tier Tribunal which settles legal disputes and is structured around particular areas of law. Responsibilities include handling applications for the discharge of patients detained in psychiatric hospitals, and applications to change community treatment orders and the conditions placed on a 'conditional discharge' from hospital. Decisions are made by a Panel consisting of a judge, a specialist layperson and a medical member.
Amy began working at Newman in 2019 bringing with her experiences of working as a solicitor within criminal and family practice law before specialising in public law family work. Amy will be able to bring these experiences to her role as a Judge and consequently will then be able to share current practice with students on the Law and also the Criminology programmes at Newman University.