History Lecturer awarded research grant
24/04/2020 by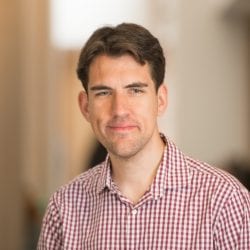 Chris Langley, Senior Lecturer in History at Newman University has recently been awarded a research grant from the Strathmartine Trust, for the second stage of his collaborative project, Mapping the Scottish Reformation.
Mapping the Scottish Reformation is a digital research tool that tracks the ministers who served in the Church of Scotland between the Reformation Parliament of 1560 to the Glorious Revolution in 1689. By extracting data from thousands of pages of manuscript material held by the National Records of Scotland in Edinburgh, Mapping the Scottish Reformation (MSR) tracks clerical careers: showing where clerics were educated, how they moved between parishes, their age, their marital status, and their disciplinary history. This data will drive a powerful mapping engine that will allow users to build visual searches to track clerical careers over time and space.
The project takes hundreds of data points about clerical careers from manuscripts and records them in Wikidata, a collaboratively edited knowledge base hosted by the Wikimedia Foundation. MSR aims to make the information found in early modern archival documents available to an audience of school teachers, genealogists and academics. This project is a partnership between Dr Chris Langley from Newman University, Dr Michelle Brock from Washington and Lee University, Virginia, and the National Records of Scotland.
The Strathmartine Trust, who have awarded the most recent grant, offers a range of grants and awards to projects addressing the history of Scotland and the Scottish people. The Trust was established by the late Dr Ronald Cant to encourage and support the study of all periods of Scottish history, continuing the work to which he devoted most of his life.
Phase one of the research project was funded by the National Endowment for the Humanities, and this most recent grant from Strathmartine Trust will allow Dr Langley and Dr Brock to progress with their project. Stage two of the project will see further exploration of ways to visualise and manipulate the initial dataset and is a critical moment to allow the team to grow and establish a test version of an interactive map that traces clerical social networks 1560 and 1689.This stage of the project is a vital step before it moves on to gathering data on the clergy from other regions of Scotland.
Dr Langley commented, "We are very grateful to the Trustees of the Strathmartine Trust for their faith in MSR and for appreciating this as a key moment for our project. We should also like to thank everyone who has shown such support and generosity in watching MSR's development to date. We hope to share more with you as we move into this next stage of our work."
For further details on the research visit the MSR website, the latest issue of International Review of Scottish Studies, or the MSR Twitter page.