In memory of Pamela Taylor (Newman 1997- 2009)
01/12/2021 by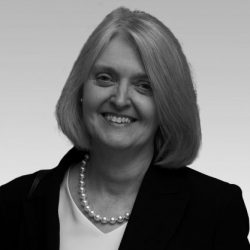 Pamela Taylor joined the senior management team as Vice Principal in 1997. At that time Newman College of Higher Education was led by Prof Brian Ray, an internationally well known research physicist, a convert to Catholicism who saw his time at Newman as a way of giving back in thankfulness to an expanding sector of Catholic Higher Education for what he had received and been able to achieve from education.
Pam brought different and complementary gifts. She had a distinguished teaching career in primary and tertiary education lecturing in English and Drama and Education and also as Programme Leader for Primary Teacher Training, MA Education and Management Diplomas, at what is now the University of Greenwich. This portfolio melded well with the core traditions of Newman College whose graduate teachers were by then already working in most primary schools throughout the West Midlands. But in an education environment that was getting increasingly quality conscious she also brought the particular experience and skills relating to the inspection of schools, as Inspector with the Performance and Standards team in the London Borough of Wandsworth and a period working for OFSTED on the inspection of Initial Teacher Training.
Within her first three years she led the institution successfully through its first full QAA assessment. From the start her style was immersive and hands on.  She would regularly visit staff in their offices, rather than 'phoning them, be seen to be in conversation with students and professional and support staff in the quadrangle or in the dining room queue. It became clear her office had an open-door policy within the possibilities of her busy timetable.  When Professor Ray retired in 2000 she was the obvious choice to take the institution on to the next level of academic and professional competence in a new and very challenging millennium.
Pam was a convert to Catholicism. Her faith was deep and reflective, she had an innate understanding of the faith journeys of so many of her staff and students. She appreciated the calm expression of living faith in the life, thoughts, and writings of John Henry Newman and above all his vision of a University Community. The aim of which was to invite generous and mature responses to the shared opportunities of growing in understanding, in virtue, and in wisdom.
Pam spoke of her good fortune in being prepared for reception into the Church by Frederick Copleston SJ, one of the greatest historians of philosophy of the last century. Each week he gave her some reading to do and then met with her to face the barrage of intelligent questions coming from so many different angles. He enjoyed these sessions and Pam never forgot the calm good humoured way the elderly professor responded so seriously to her. It enabled her to develop a faith that was deep but not narrow or doctrinaire; perfect for the Principal of a College with a rich Catholic Christian tradition but now with a growing multi-faith population of students and staff from all faiths and none.
In an article in the Guardian, published shortly after a series of race riots in Birmingham, in November 2005, Pam argued that there was an opportunity for teachers and educators to model and inculcate a spirit of tolerance. She was particularly pleased that Muslim students felt at home at Newman because it was so clearly "faith friendly." She saw its diversity as a sign of what was possible in the multicultural, multi-faith world of Birmingham.
She believed that if young, and not so young, teachers-to-be of different faiths could study theology and philosophy, history and literature, IT and mathematics and art together, then we might hope for leaders capable of reasonable and respectful debate, capable of inspiring a new open-minded and inclusive generation of citizens. Some of those studying at Newman at that time have indeed become leaders in their communities and one can see signs of her vision in schools and communities across the West Midlands.
During her term of office the emphasis of the Catholic nature of the College became more clearly focused around Catholic Social Teaching and Thinking. She saw the core principles of this discipline as central to the mission of Newman. At the heart of this was the biblical affirmation that all people are created in the image and likeness of God and so demand reverence and respect. This, for Pam, was the core principle that underpinned Newman's person-centred focus of teaching and management.
The students and the staff were at the centre of her concern. If they flourished then the institution would flourish, create opportunities and release excellence. The principle of solidarity underpinned her efforts to take all with her into the vision of a larger and broader Newman. It could embrace new disciplines and offer greater options to an ever wider student body, including those from non-traditional backgrounds. When she took over 50% of the student body were from disadvantaged backgrounds and nearly 25% from under-represented groups.
To solidarity was matched another principle – of subsidiarity. Wherever possible decisions and responsibilities should be taken up within the subjects and disciplines. This led to a greater sense of shared responsibility and clear identity. To this end she sought to appoint gifted subject heads and young staff with potential. Many of those she appointed have since gone on to be Professors and leaders in their own discipline here and abroad.
She took over a college with just over 900 students, by 2007 the student community had expanded to nearly 2,500 under- and post-graduates and soon 98% of Newman graduates available for work were finding employment each year. This success rate was the envy of many of our more historic universities and colleges but at the same time the work necessary to prove that the institution was worthy of greater recognition was hugely demanding on all concerned. On August 30th 2007 Newman stepped out of the benign shadows of Birmingham, Coventry and Leicester Universities, who had previously validated its degrees, and achieved its own Taught Degree Awarding Powers.   Following due process, the Privy Council approved the change of name of Newman University College.   Joy unbounded!
(The title Newman University was eventually gained in 2013.)
In the midst of all of this Pam took on the role of Chair of The Cathedrals Group (The Council of Church Universities and Colleges), working together to meet the challenges of changed and less sympathetic economics.  She also Chaired Guild HE (formerly SCOP) which involved significant lobbying of Government departments to keep Higher Education diverse and inclusive.   Additionally, Pam had a leading role on many higher education strategic boards and committees, both locally and nationally and was also a Foundation Governor at St Joseph's Catholic Primary School in Malvern and at St Paul's Catholic Girls' School in Birmingham.
Pam's first Vice-Principal, Muriel Robinson, went on to become Principal at Bishop Grosseteste, Lincoln and then its first University Vice Chancellor. Hardly surprising then that she invited Pam to join the Board of Bishop Grosseteste to help it to achieve its next stage of development.  Pam inspired confidence in her staff and that was increasingly seen and acknowledged by colleagues in other institutions who would regularly ask, formally and informally, for her advice.
When Plater College Oxford, the Catholic Worker College, which had helped generations of working people to gain access to higher education, closed down Pam was invited to join the four Catholic Archbishops as a Trustee to discern the best use of the realised funds in projects and programmes that address one of three themes: leadership development for lay people in the Roman Catholic Church, particularly in the area of justice and social action; the provision of education for people from the most marginalised sectors of society; and the intellectual endeavour of refreshing Catholic social thought in dialogue with the British context through scholarship and writing linked with policy formation.  She had already been modelling these approaches at Newman and had gained research money to establish an open website where anyone could get access to the Catholic Social Teaching that had so inspired her.
Pam was an inspirational speaker and a stylish writer. Her two addresses at Graduation each year were affirming of all that had been achieved by staff and graduands, encouraging a new generation entering the labour market, and cognizant of all the sacrifices and support families and friends had made to enable the Newman students, often the first of their families to have entered Higher Education, to succeed. The applause was always thunderous and prolonged.
When the Blair government produced its 2003 Higher Education Whitepaper Pam went to press in The Tablet of February that year. In three succinct paragraphs she accused the White Paper of hedging bets, placating vested interests and refusing to take risks. She celebrated the students who would still come to Newman and achieve but who would now "go out into the world not with a light heart and a sense of achievement but with the inescapable fact of several thousands of pounds of debts to clear before they even begin to plan for their future." The words were white hot on the page. It was devastating.
Shortly afterwards she followed this up with a reflection on how research might enhance Catholic Higher Education. It was a visionary piece in which she was able to cite the resources she and her staff had managed to gain for new social inclusion projects.  In particular a new programme for research into childcare opportunities for women in socially deprived areas. Research that led to the development of a hugely successful new programme. At the end of the piece she proved prescient in predicting the demise of so many of our parish communities and suggesting ways that the Catholic HE Colleges and Universities could provide research to feed into the revisioning of those communities.  Just eighteen years before current Church leadership saw the same need!
Pam "the Poet" appeared each year at leaving "dos" when the University community gathered to celebrate colleagues retiring, or moving on to new posts. She would regularly arrive with a handwritten poem. These gently celebrated those leaving. Sometimes in the form of a Sonnet, or a mock Epic, a Limerick or Haiku, an Elegy, a Ballad, an Ode or a revision of a well known classic. They were witty, original and warm evocations of characters who we all knew and who she clearly appreciated and wished to celebrate. Just before her retirement at her last Christmas meal at Newman, among all the memorable things she said were these simple words which can truly be her epitaph:
"You may have better Principals in the future, but you will not have one who loves you more than this one."
With thanks to David Mcloughlin and Pat Child.
A Memorial Mass for Pam will take place here at Newman on the 2nd December
Many who have known Pam from the many facets of her life will join those of us here at the Newman Community who wish to gather, remember her and pray for her.
Please do share this information with anyone you know who would like to join us, and know that you too are most welcome.
Memorial Mass for Pamela Taylor RIP
5pm, 2nd December
St Mary's Chapel, Newman University
Main Celebrant: Archbishop Bernard Longley
Join the Memorial Mass on Zoom
https://newman-ac-uk.zoom.us/j/97299430994?pwd=ZTlDcVJXSSsrOGYyNy9TbjUrMWI3UT09
Meeting ID: 972 9943 0994
Passcode: 937410