John Peters presents at National Lottery Heritage funded project
03/03/2021 by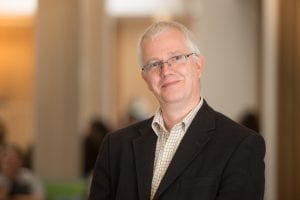 Director of Learning, Teaching and Scholarship at Newman University, Professor John Peters, last night, 2nd March, presented at a National Lottery Heritage funded project the 'Redditch Military Service Tribunal Project'. The webinar formed part of the Worcestershire World War 100 projects.
The project focuses on the period after the initial surge of interest in 1914, where the numbers of men volunteering to fight in World War I dropped. The Derby Scheme of 1915 listed all the men who were both willing and eligible to fight, and in 1916 conscription was introduced to 'call-up' all men between 18 and 41 to fight. For those who could not fight due to their health, obligations, employment or beliefs the Military Service Tribunals were established to hear their cases and provide exemptions from conscription. Records of these tribunal were largely destroyed in 1921, but in Worcestershire, Redditch kept its registers of application and some correspondence in the archive of Redditch Urban District Council.
Since early 2020, volunteers for the National Lottery Heritage funded 'Redditch Military Service Tribunal Project', have been transcribing these registers as well as researching the men who applied for exemption both under the Derby Scheme and later Military Service Tribunals between 1915 and 1918.
The webinar which took place on 2nd March included a talk from Professor John Peters about the Military Service Tribunals.