Katherine Boulton: graduating against the odds
27/10/2017 by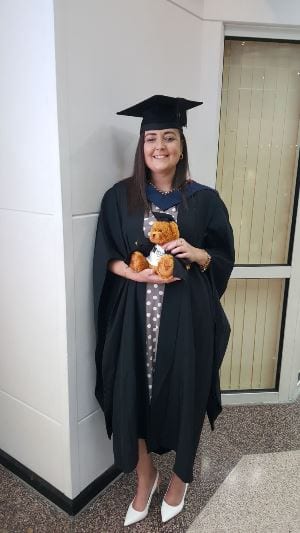 In 2005, aged just 15 Katherine Boulton from Coventry was hit with the devastating news that she had Acute Lymphoblastic Leukaemia, a form of blood cancer. The news put a halt on her sporting dreams as she had represented Great Britain in the swim team in the United States and she also had to take a year out of school for treatment just before her GCSE exams.
Katherine, who proved to be a fighter returned to school to take her GCSEs and managed to secure grades good enough to attend the sixth form college in Coventry to study her A Levels.
By 2009 Katherine had already undergone a bone marrow transplant and experienced the difficulties which can go with it as she developed Graft Versus Host Disease (GVHD) which meant her body began to reject her transplant, leading to issues with her liver, skin and gut. Although treatment took up a lot of Katherine's time, through sheer determination she was still able to continue with her studies and achieve her A Level results to progress on to university.
At aged 19, Katherine began her studies at Newman University in Birmingham on a Sports and Education course. However, just months into her studies at the university Katherine was diagnosed with renal failure, meaning she required dialysis three times a week. Unfortunately Katherine had to defer from her course as she underwent treatment and in 2011 she developed aspergilloma in her spine and stomach which then spread to her lungs and 2 weeks before her 21st birthday, Katherine was told she had just 2 weeks to live. Thankfully, it appeared that the diagnosis was wrong and Katherine actually had para-influenza in her lungs.
Due to the intense treatment Katherine had faced she then required both of her hips to be replaced and whilst waiting for this operation she had a heart attack. After the heart attack Katherine went into a coma for 8 weeks and her friends and family were told that she might not make a full recovery.
After Katherine woke up from her coma and was recovering she experienced complications with her antibiotics and was left deaf in one ear and developed medical anorexia, a battle which she has now overcome.
In 2012, Katherine was finally able to have her hip replacement surgery and in 2013 Katherine's mother Su donated her kidney to her daughter and the procedure was a success.
In 2014, aged 24, Katherine returned to Newman University and began her studying towards her Working with Children, Young People and Families and Education BA (Hons).
Katherine worked incredible hard whilst at university and felt she had a new lease of life when returning to university. In her second year of university Katherine received the news that she once again had renal failure and needed another kidney. Because of this Katherine needs to be wired to her dialysis machine for 8 hours of the day; many would think this would mean that Katherine would have to leave university for a second time, however, Katherine's fighting attitude decided to keep battling both through her illness and her education.
Katherine received great amounts of support from both her family and lecturers at the university, Katherine commented "The fact I wanted to come back to Newman says it all. As it is a smaller university you are not just a number, you are a person and my lecturers were willing to give me their time and always responded quickly to any queries I had. Newman helped diagnose me with acquired dyslexia and then offered me support which meant that my grades improved."
Miraculously, Katherine only missed 2 weeks of university in the whole 3 years of her studies and was able to achieve a fantastic 2:1 in her degree.
"My proudest achievement is graduating with a 2:1. I've wanted it for so long and knew I could do more with my life. It's been a whirlwind of emotions with many challenges, but I've done it!"
Katherine, now 27, graduated with her peers on 26th October at the Symphony Hall in Birmingham, surrounded by her immensely proud family and lecturers.
Not only has Katherine secured her degree she now has a fantastic job at Calthorpe School in Birmingham as a Teaching Assistant. The Special Educational Needs (SEN) School is where Katherine completed her placement whilst studying at Newman University, and she loved working there.
Katherine's dream is to become a teacher in an SEN school, but wants to gain experience before doing so. As well as this she is still on the waiting list for a kidney transplant which she hopes will lead her to a healthy life.
Katherine's advice to future students at Newman University is simply "Keep trying. Don't give up and always ask for help; don't be embarrassed if you need help."
Katherine's story is an inspiration to all those who know her, and to those who don't and whilst waiting for her transplant Katherine is raising awareness of leukaemia and is championing the effort to change the law in England to introduce an opt-out system for organ donations.