Marketing Department thanked by local school for donation
27/04/2020 by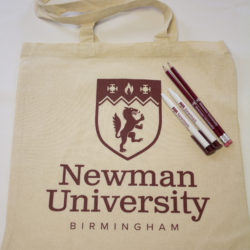 Current student, Emily Perry, has thanked Newman University's Marketing Department as they donated stationery for the students at a local primary school where she is a Teacher.
Emily, who is currently studying towards a degree in Education, teaches at St Brigid's Catholic Primary School in Birmingham. Emily asked the University if they were able to supply her class with anything that will assist with their learning from home.
The Marketing department were able to help and donated bags of stationery for her 60 Year 6 pupils. Emily was then able to deliver the items, dropping them on doorsteps in and around the Northfield area along with a copy of the end of term script for them to practice.
Emily said, "We are so grateful for the donation of stationery from Newman, the children were delighted to receive their goody bag and have sent messages of thanks. Many of them have told me that they are using the highlighters to make rainbow pictures, the pens and pencils to write in their diary and sending letters to friends and family."