Newman Alumna starts initiative to support teachers
09/10/2020 by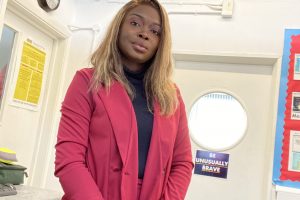 Tessy Mosindi studied her PGCE in Secondary Computer Science at Newman University and as well as working as Head of Computer Science and Business at a Birmingham school, has recently set up an initiative to support Black and Asian teachers in the West Midlands.
Before embarking on her PGCE at Newman, Tessy was a Teaching Assistant and a Startup Tech Founder. Whilst studying Tessy enjoyed working with colleagues and learning about education theory.
"I was supported extremely well by my lecturers as well as being able to have a forum to talk about wellbeing and trainee work/life balance."
Before the course had come to an end, Tessy had already managed to secure three job offers and now works at Four Dwellings Academy in Quinton, Birmingham as their Head of Computer Science and Business.
"I am very passionate about Computer Science and this role has given me an opportunity to present myself as a role model for girls in Computer Science."
Tessy's most recent venture is called Melanin Mentors. Melanin Mentors is a community created to support Black and Asian teachers in the West Midlands. Tessy explains "Our aim is to provide the first of its kind, companionship platform to enable teachers to get in depth advice from experienced teachers, network and explore opportunities in order to motivate and inspire each other.
"I remember being a trainee myself and it's such an important journey where students need understanding and sound advice as they start their teaching careers. Based on research we conducted, trainees don't really have a community to turn to, outside of their universities and at school placements. So we wanted to provide that mentorship and guidance.
"My colleague and I had already been supporting trainees in our various schools as well as supporting other initiatives through our union, to motivate female teachers on the leadership pathway. So it made sense to expand our reach."
Tessy plans for Melanin Mentors to become well established in the West Midlands, with the vision of partnering with all of the universities in the region to ensure maximum reach for the platform.
Tessy concluded "anyone starting out their journey as a teacher or in whatever career path, that you can make an impact no matter how little. Look around in your community to see what you can change, where you can motivate others and where you can amplify the voice of the future generation. Success isn't measured by the amount of material things we acquire individually but rather by our ability to inspire others positively."