Newman Alumni wins National award as Nursery Manager
05/01/2018 by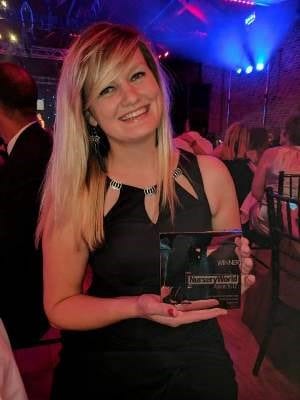 Dovile Baikauske, nee Sunskyte moved to the UK from Lithuania in 2007 aged just 16. At that time her English was limited and she could only read and write simple sentences.
Dovile worked hard to learn the English language and from then she enrolled to study at Sandwell College and upon completing her Level 2 and 3 Childcare and Education. She knew she wanted to go to university but was concerned that her level of English would not meet the entry requirements.
After hearing about Newman's excellent reputation for teacher training, Dovile applied through UCAS and was delighted when she was offered a place. Before beginning her course Dovile was offered a place on the HEADstart programme which gives students the opportunity to see what university life is going to be like and equips students with the skills needed to study effectively and successfully during their time at university.
Dovile states "I was very thankful to have such support right from the start."
After completing the HEADstart programme, Dovile began her Early Childhood Education and Care BA (Hons). Dovile made use of the facilities on offer at Newman commenting "I loved the library! The amount of literature, books, journals and electronic resources that were provided was amazing!"
Dovile had been concerned she may struggle to adapt to university life in the UK, especially as English wasn't her first language, however, the lecturers at Newman supported her as she was not only learning within her course but was also bettering her English skills each day.
"All the staff made me feel welcome. As an EAL student there were many questions I had, misunderstandings or simply confusions. But there always was someone I could approach to talk or clarify things. I loved coming to Newman."
"In addition, it was very inspiring to see that each lecturer had their own interest of Childcare field that they were passionate about, they carried out trips to other countries and research to provide newest and highest quality information; I believe this has prompted me to think about what is my passion in this field and made me realise how important it is to never stop learning."
During her last semester at Newman, Dovile began working as a nursery practitioner and after successfully completing her degree, gaining a 2:2 classification in 2013, Dovile applied for a room leader position at a local nursery.
"I believe it is the skills I gained at Newman that resulted in my success in securing the position. In just 7 months I was promoted to Nursery Operations Co-ordinator, and 6 months after I was promoted to a Nursery Deputy Manager."
"In April 2016 I became a Nursery Manager, and in October 2016 the nursery won Best Nursery in Sandwell 2016 award."
"I also have been involved in setting up one of the biggest new nursery settings in Sandwell – Fireflies Nursery, which I now manage. I currently have a team of 12 staff and 3 students, with nursery catering for up to 96 children. In September 2017 Fireflies Nursery won the national Nursery World award for Early Years Launch of the Year. It also has been nominated for Outstanding Business of the Year award at ABCC Awards in Birmingham. I also have been involved in mentoring students at all different levels of their childcare studies including Early Years Teacher trainees."
"In addition, I have recently been part of the founding team for new project launch; United Nurseries of Sandwell, through Smethwick Youth and Community Centre) – uniting nurseries for joint fundraising over the year for a chosen charity, while also promoting healthy lifestyles for staff and parents."
Looking forward, Dovile hopes to return to education to complete a Masters programme whilst continuing within the profession she enjoys so much.