Newman awards Honorary Degrees
17/11/2017 by
Newman University in Birmingham has recently celebrated its annual graduation ceremony. As part of this ceremony, Newman traditionally awards Honorary Degrees to those it feels have played an instrumental part in society as a whole.
Previous Honorary Graduates have included English Golfer Alison Nicholas MBE, Actor Mark Williams, English Footballer Dion Dublin and Sister Bernadette Mary Porter CBE. Newman University has been awarding Honorary Graduate Degrees since 1995 and now in 2017 they continue that tradition.
The graduation ceremony was held at Birmingham's Symphony Hall on 26th October where many of this year's graduates celebrated their successes in gaining their qualifications. They were joined by this year's Honorary Graduates; Sian Massey-Ellis MBE and Marcia Shakespeare MBE.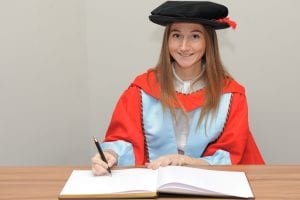 Sian Massey-Ellis is an English football and women's football referee who has officiated the game at all levels. In 2009 Sian was appointed to the Professional Game Match Officials (PGMO) which is the body responsible for training, selecting and managing match officials for Premier League and English Football League matches. The PGMO includes the highest level of elite referees and assistant referees in this country, something which Sian forms a part of.
Sian has regularly been involved in a number of top flight Premier League fixtures as well as the UEFA Women's Champion League, UEFA Women's European Championships and the FIFA Women's World Cup.
In 2017 Sian was awarded an MBE in the New Year Honours list for services to football and hopes her achievements can inspire girls to play football or become involved in the sport in various other ways similar to her own career.
Sian is an alumni of Newman University as she studied her Sports Studies BSc at the university, achieving First Class Honours in 2007 before successfully completing her PGCE at Newman in 2008. It is with this in mind that Newman University proudly awards Sian Massey-Ellis an Honorary Degree of Doctor of Science for her outstanding contribution to the advancement of women's sport and for continuing her involvement as a Physical Education teacher.
Sian commented on her Honorary Degree "I'm very excited to be receiving my Honorary Degree. It's a real honour to be invited back to university; I loved my time at Newman and I love going back. I really feel like I developed so much as a person at Newman and I can't wait to see the other graduates and how they have developed too."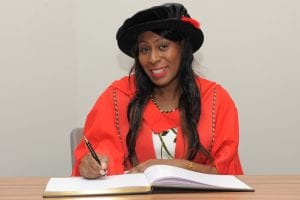 Newman's second Honorary Degree for 2017 goes to Marcia Shakespeare MBE. Marcia is an anti-gun and gang campaigner whose teenage daughter was tragically murdered in the New Year party shootings in Birmingham on 2nd January 2003. Her only daughter, Letisha Shakespeare aged 17 and her friend Charlene Ellis aged 18, were the innocent victims of a gangland feud. Four men were later convicted of murder and attempted murder at a high profile six-month trial in Leicester which saw evidence from anonymous witnesses for the first time.
Soon after the trial Marcia, together with Charlene's mother, led the Letisha and Charlene Education Awards scheme which was backed by a large number of organisations and which, for many years, helped almost 70 disadvantaged young people to achieve their career goals.
Marcia is the Director and founder of The Precious Trust which helps young women and girls who experience gang violence, violent crime and sexual exploitation. She has worked with a large number of young girls and women under the Health Choices and Decision making programme which has equipped those affected with life skills.
In 2017, Marcia Shakespeare was awarded an MBE in the New Year Honours for her inspirational services to law and order.
Newman awarded Marcia with an Honorary Degree of Doctor of Laws due to her tireless campaign working with young people against gangs, gun and knife crime.
Both Sian and Marcia were able to receive their Honorary Degrees whilst being congratulated by Newman University's class of 2017, along with staff members from Newman University.