Newman Drama Students tour local schools and colleges with workshop
19/10/2017 by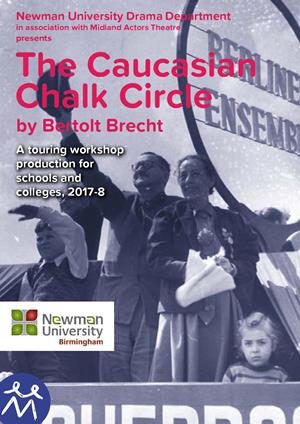 Drama students at Newman University are sharing their creative talents with schools and colleges in the region as they take their workshop on tour.
The workshop is aimed at school years 11 to 13 and will involve the undergraduates from Newman performing scenes from Bertolt Brecht's play; The Caucasian Chalk Circle. The performance is accompanied by a one-hour practical workshop to enable students to develop their understanding of the practical and theoretical aspects of drama and theatre.
The workshop not only gives Newman students the opportunity to perform and gain experience within the industry, but also inspires the next generation of creative minds.
The workshops will be taking place throughout November and the schools and colleges involved in include Coleshill School, St Thomas Aquinas School, Holyhead School, Park Hall School, Cadbury College and Halesowen College.
The GCSE, BTEC and A Level students at the various schools and colleges will witness key scenes from Brecht's play performed by Newman students, interspersed with dramatic recreations of Brecht rehearsing the play with actors, based on rehearsal transcripts.
The production is co-produced with Midland Actors Theatre and has been provided to the schools and colleges free of charge to encourage those interested in drama to learn more about a production from a particular period, as an example of an important genre and style which is 'epic theatre'.
Newman University continually works with local schools, colleges and other businesses to give their students great opportunities to network with influential people within their specific industry, as well as gain valuable work experience to aid them in their search for employment.