Newman hosts successful Cathedrals Group Choirs Festival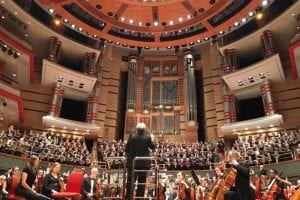 Saturday 24th February saw universities from the Cathedrals Group come together to perform as part of the annual Cathedrals Group Choirs Festival.
University of Chester, Canterbury Christ Church University, University of Cumbria, York St John University, University of Winchester, Liverpool Hope University, St Mary's University College London, Bishop Grosseteste University, Plymouth Marjon University and the University of Chichester travelled to Birmingham to this year's host university, Newman University, for their weekend of performances.
On Friday 23rd February the choirs gathered in the Chapel at Newman University to begin their rehearsals.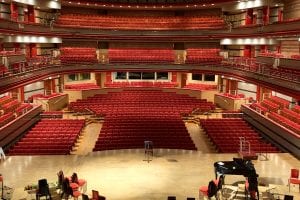 A full day of rehearsals then took place the following day at Birmingham's Symphony Hall with choirs not only rehearsing in their individual university choirs but en-masse as they perfected the requiem mass of Berlioz's Grande Messe des Morts ahead of the evening performance.
The audience waited in anticipation to hear the individual choirs perform a wide variety of items before the grand finale conducted by Newman's Derek Wroughton and featuring soloist Stephen Mills, accompanied by the Birmingham Philharmonic Orchestra.
The evening was a joyful and uplifting event and formed part of Newman's 50th anniversary celebrations which are taking place throughout 2018.
Derek Wroughton commented, "the Festival Concert provided a unique opportunity for the students, staff and friends in our choirs to sing in one of the world's best concert venues, and to take part in the epic Berlioz Requiem, which because of its scale, is rarely performed. Despite all the hard work required, they produced an absolutely memorable performance on the night!"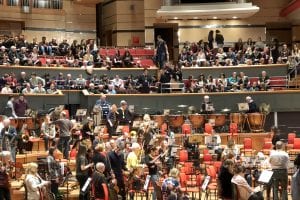 Alongside the weekend of the Choirs Festival, Newman University hosted the Cathedrals Group Chaplains Conference which included a range of seminars including Religious Talk Online: Muslim, Christian, and Atheist Discourse on Social Media by Dr Stephen Pihlaja, Newman University amongst many other sessions over the four day conference. The university also hosted a Vice Chancellors Conference over the course of the weekend.
The weekend was drawn to a close on Sunday morning with a Sunday Service held at Newman University's Chapel.