Newman in top 10 of all UK universities for course and lecturers
26/04/2019 by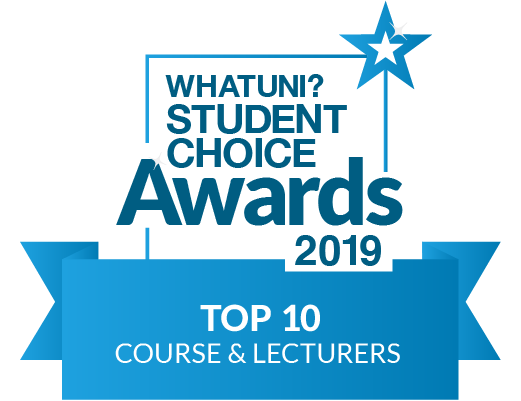 Newman University, Birmingham was shortlisted in the Whatuni Student Choice Awards 2019 in the 'Course and Lecturers' category last month with the grand final taking place yesterday (25/04) evening.
Whatuni allows students to compare universities in a number of different ways with the awards being the only university experience awards based on student reviews.
Newman was placed 9th out of 131 universities within the UK, placing the university top within the category amongst the Birmingham universities.
Newman University also performed well in other categories including being within the top 20 for student support, top 50 for job prospects and university facilities as well as being within the top half of the table for overall university of the year.
In more general terms students studying at university proved to be happier with university life than previous years according to the tables produced by Whatuni.
Simon Emmett, CEO of IDP Connect which owns Whatuni, believes that this result signifies the ongoing commitment of the higher education sector to the student experience. He said: "This year's strong results are a clear indicator that despite the increasing cost associated with accessing a university education, students recognise and value the opportunities, support and teaching that they receive."
Students leaving reviews about Newman University spoke very positively about their experiences commenting:
"I have loved my time at this university as it has helped me believe in myself as a learner and enabled me to set new goals for my learning that equally help me in my work."
"I feel at home and like I have a second family. It is like a tight knit community. You could sit in the atrium and speak to anyone and end up having a lovely conversation."
"Being in my third and final year of my undergrad, I can honestly say it's been a life-changing experience. Newman has helped me to blossom as a person and equipped me with skills and knowledge that will allow me to have a happy and successful future."
Newman University prides itself on providing students with the skills to develop not only academically but also personally, placing equal importance on personal wellbeing and high academic performance.
To find out more about the university visit the summer open days on Saturday 15th June or Saturday 6th July, both 10am – 3pm or order a prospectus.