Newman lecturer appointed PALA chair
22/11/2021 by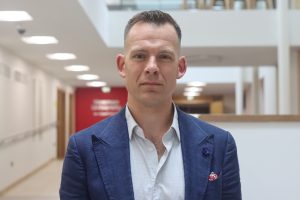 A lecturer from Birmingham-based Newman University has been appointed as the incoming chair of PALA – the international Poetics and Linguistics Association.
Stephen Pihlaja is Reader in English Language and Linguistics at Newman University and will take up the three-year role in January 2022. PALA is an academic association for those who work in stylistics, poetics, and associate fields of language and linguistics and has nearly 500 members around the world. It hosts annual conferences, sponsors relevant seminar and symposia and supported postgraduate researchers and new academics in the field.
Commenting on his appointment, Stephen said:, "I am excited and honoured to be leading the Poetics and Linguistics Association from next year. I have made some of my best academic friends and mentors through this association and believe very strongly in the work that we do."
"I want to continue to make PALA an inclusive place that mentors and supports early career researchers from around the world as well as provides an academic home to the top researchers in the field."
Professor Jackie Dunne, Vice Chancellor at Newman University, said: "This appointment is real recognition of the impact Stephen is making in his field – a field that only grows in importance as the world becomes a more inter-connected place and communication becomes more instant, and far-reaching, than ever before. We look forward to supporting him in his work with PALA over the next three years and beyond."
Stephen is a Senior Fellow of the Higher Education Academy. Originally from Chicago, he has lived and taught in Japan, Malaysia and now the UK. He leads all English-related courses at Newman University and has a particular interest in the use of language around religious issues, particularly online. His work has been published by Bloomsbury, Cambridge University Press and Routledge and his AHRC Leadership Fellowship-funded project "Language and Religion in the Superdiverse City" looks at how language use affects how people understand their own and others' religious identities within Birmingham, UK.