Newman lecturer cycles for five hours to raise money for humanitarian aid in Ukraine
25/03/2022 by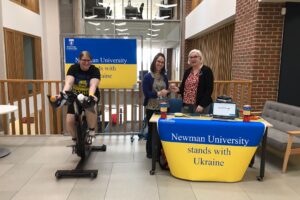 Students and staff of Newman University are aiming to raise an initial £500 towards humanitarian aid in support of the people of Ukraine, who are still in the midst of intense conflict.
On Monday 21st March, Lecturer in Law Jenny Watkins, completed a cycle-ride in Newman University Atrium as part of the Day of Action in Solidarity with Ukraine. Jenny cycled for 5 hours, the same time it takes to fly from Birmingham to Kyiv, raising a total of £544.20 so far.
Jenny commented, "The day of action came about through several staff and students asking what we could do to make a difference. I volunteered to ride the bike as I have a background of taking part in physical challenges as fundraisers such as completing the London Marathon previously. Should the conflict continue, more events and activities will be arranged and if anyone else would like to get involved with this please do get in touch.
The day would not have been possible without the full team involved in the planning and running of the day, our team consisted of: Margaret Holland, Fiona Reid, Kristin O'Donnell, Helen Bardy, Jenny Watkins, Rachel Hemming, Marilyn Crump, Collette Lewis, Susan Longstaff, and Duncan Frankis. We must also give a big thank you to both the Students' Union and to the Sports Centre team for their support, as well as a great deal of thanks to the generosity of students and staff for their donations."
Donations will be sent to the Disasters Emergency Committee Ukraine Humanitarian Appeal who are providing food, water, shelter, healthcare and protection to those who have been forced to flee the ongoing conflict in Ukraine.
If you would like to make a donation, you can do so via Jenny's JustGiving page. You can also make a physical donation on campus using the designated boxes at each till in the Sanctuary and Atrium Cafés.
The cycle ride comes as part of a number of activities across the campus to show support for those suffering disruption and loss in Ukraine, including a collection of essential items.
Kristin O'Donnell, Lecturer in Applied Humanities at Newman commented, "Like so many of us, when war broke out in Ukraine I was deeply moved by the humanitarian crises caused by the conflict. This was made all the more acute by the fact that my own family fled to Canada from Ukraine at the turn of the twentieth century amid political and economic turmoil. Newman University staff and students have a long history of supporting humanitarian charities and this event was evidence of the continued generosity and care our community continues to foster across the globe."
As part of our mission for social justice and community Newman has a long history of events, sanctuary scholarships and donation activities to support those in need, particularly due to worldwide conflicts. Find out more about our Sanctuary Scholarship.
The University would like to congratulate Jenny and everyone who has supported this cause so far. The University will be continuing fundraising activities over the coming weeks.
Those interested in the long history of wartime refugees in Europe might want to read, Gemie, Reid and Humbert, Outcast Europe (London: Bloomsbury, 2012).