Newman lecturer named a Fellow of the Institute of Consulting
13/04/2022 by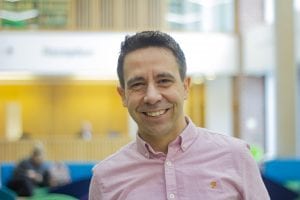 In recognition of his work as an Independent Management Consultant and his consultancy work on behalf of the Higher Level Skills Match (HLSM) Project, part-funded by the European Social Fund,  Newman University Lecturer in Enterprise and Employability, Ian Fellows, has been named as a Fellow of the Institute of Consulting (IC), the professional body for the consultancy profession.
The IC is an organisation within the Chartered Management Institute (CMI), and is the only chartered professional body that is dedicated to management and leadership. The IC supports professionals across private, public and voluntary sectors and combined with the influence and resources of the CMI, helps individuals to lead, manage and enhance performance within their respective organisations.
Ian, who has been recognised for his significant contribution to the profession of consultancy, commented, "I am delighted to be recognised as a Fellow of the Institute of Consulting and very grateful for the opportunities that I have had to support local and regional organisations to prosper.  Newman University is very conscious of our capacity to drive business growth and I am excited to continue consulting with our partner organisations over the weeks and months ahead".
Newman University offers consultancy services to organisations around growth, operational efficiency, and achieving objectives. To find out more about working with Newman as part of the HLSM project please email enterprise@newman.ac.uk.