Newman reaccredited with Eco Campus Gold Award
17/10/2017 by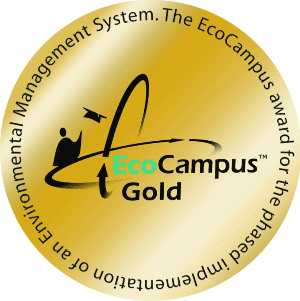 Newman University, Birmingham recently received a re-audit of their Eco Campus Gold status to ensure that the university was still meeting the requirements needed to honour the title.
Eco Campus is an Environmental Management System and award scheme designed specifically for universities in the UK. It aims to aid institutions in moving towards environmental sustainability through good operational and management practices.
Newman is pleased to announce that following the re-audit in October 2017, the university is to retain its Gold status until 2019.
When Newman was originally accredited with the gold status, the audit identified 10 opportunities for improvements, however, this time round only 2 very minor opportunities for improvement were identified. The auditor was particularly impressed with the sustainability of the new buildings on campus which are part of Newman's £20 million development project.
The university has been working extremely hard to improve their environmental performance to show their ongoing commitment to the environment and stewardship of the planet.  Newman now produces almost 10% of its own electricity on campus by solar voltaic panels on the flat roofs around the site, as well as by the introduction of a micro CHP in the new Cofton halls of residence.
Newman has a very active and supportive environmental committee, which is chaired by a member of the University Leadership Team and, together with all staff and students at the university, they have managed to reduce the universities general waste by 95% over the past 5 years.
Newman now sets its sights ahead to 2018 as the university looks to work their way towards achieving the Eco Campus Platinum Award and work has already commenced to ensure they reach their target before the end of 2018.