Newman shortlisted for Whatuni Student Choice Awards
21/04/2022 by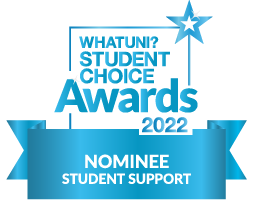 Newman University, Birmingham has been shortlisted in the Whatuni Student Choice Awards 2022 in the 'Student Support' category.
The Whatuni Student Choice Awards (WUSCA) is an annual event celebrating the hard work of higher education providers across the United Kingdom, based purely on the student voice. The awards are the only university experience awards based on student reviews, collecting an average of 35,000 verified university reviews each year, from on-campus visits across the country, as well as online submissions via Whatuni.
Simon Emmett, Chief Executive, IDP Connect, commented: "Being shortlisted for one of our Whatuni Student Choice Awards is exceptional. To be recognised so highly by your students is the pinnacle of excellence. Institutions should be proud of making it to this stage in the process and should celebrate the experience they've delivered for their students over the past 12 months."
Newman University has been shortlisted in the 'Student Support' category along with 9 other universities.
The awards ceremony will take place on 24th May 2022 in London.